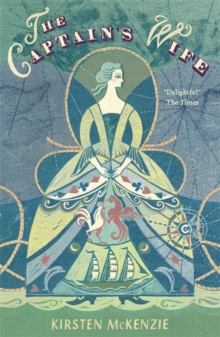 The Captain's Wife
Paperback
Description
1762. Mary is desperate to escape her embittered mother. So when her marriage to a prosperous sea captain is arranged, she embraces the damp salt air, cramped conditions and bad food.
She sets sail on the Isabella, away from the land of her childhood towards unseen places and an unknown future. But being the captain's wife is going to be harder than she thought.
Her husband is still grieving for his first wife, and Mary can't ignore her feelings towards another man onboard.
Through him, she has a taste of the kind of love she might have known, and even begins to think that escape is possible.
With ruthless pirates patrolling British waters and ports full of outcasts with unspoken pasts, Mary learns quickly that loyalties are always shifting and people are rarely as they first seem.
The Captain's Wife is a richly realised story of adventure about a strong young woman determined to survive her fate by a wonderful storyteller.
Information
Format: Paperback
Pages: 416 pages
Publisher: Hodder & Stoughton General Division
Publication Date: 01/05/2011
Category: Historical fiction
ISBN: 9781848541535
Free Home Delivery
on all orders
Pick up orders
from local bookshops
Reviews
Showing 1 - 1 of 1 reviews.
Pick this book up at your peril! You will not put it down until you have finished the last page ...Set in the C18, its plot moves across stormy seas from the Orkneys and Edinburgh through Guernsey, Amsterdam, and St Pierre on the Island of Retribution. It is peopled with characters that are at once both complex and believable. The protagonists Mary and John Fullerton are both bastards. Unknowingly they share a common past through Mary's mother Margaret. Mary grows up never knowing her father, enters into a disastrous marriage with Captain William Jones only to fall in love with his seeming best friend Mr Cole the ship's surgeon. She becomes embroiled in the curious intrigues of the two men hardly knowing lies from truth - fact from fiction.Driven by the cruelty of the bare existence he shares with his mother and grandmother in Orkney, Fullerton turns his back on grinding poverty to become a privateer and pirate. His story links him up with motley and terrifying individuals in the various ports he visits. McKenzie skilfully weaves Fullerton's tale of adventure with those of the exploits of Mary, William and Mr Cole who he eventually meets up with.The denouement is fast, furious, spectacular and totally inevitable. I can guarantee that you will be impressed by McKenzie's skill as a storyteller - she takes you on a journey that cannot fail to amaze, astonish and astound you with the intricacies of its plot.