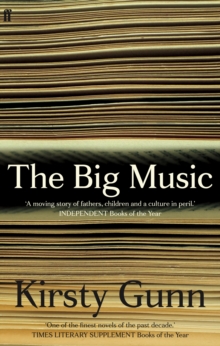 Description
'The hills only come back the same: I don't mind ...' begins Kirsty Gunn's "The Big Music", a novel that takes us to a new understanding of how fiction can affect us.
Presented as a collection of found papers, appendices and notes, "The Big Music" tells the story of John Sutherland of 'The Grey House', who is dying and creating in the last days of his life a musical composition that will define it.
Yet he has little idea of how his tune will echo or play out into the world - and as the book moves inevitably through its themes of death and birth, change and stasis, the sound of his solitary story comes to merge and connect with those around him.
In this work of fiction, Kirsty Gunn has created something as real as music or as a dream.
Not so much a novel as a place the reader comes to inhabit and to know, "The Big Music" is a literary work of undeniable originality and power.
Information
Format: Paperback
Pages: 496 pages
Publisher: Faber & Faber
Publication Date: 06/06/2013
ISBN: 9780571282340
Other Formats
Hardback from £15.25
EPUB from £6.39
Free Home Delivery
on all orders
Pick up orders
from local bookshops
Reviews
Showing 1 - 1 of 1 reviews.
Review by Widsith
27/08/2015
What we have here is a wonderful, ambitious idea for a novel, which unfortunately fails on almost every level.Its subject is piobaireachd – pronounced, and usually spelled, <i>pibroch</i> – which, I need scarcely remind you, is the grand classical tradition of Highland bagpipe music. Piobaireachd is a complicated genre: it builds from a simple urlar, or 'ground'-theme, and expands to take in a series of dazzlingly complex embellishments through a number of set interlinked movements, before gradually dying away again in a show of the player's virtuosity and skill. Kirsty Gunn's conceit here is to tell a story of piobaireachd which is also in itself a demonstration of the tradition: its form matches its content. A thematic, gentle introduction, a series of increasingly complex embellishments, and all coming back full circle to form a satisfying, 'melodic' whole.This sounds amazing, right? The problem is that she forgot about the story. If you put this 450-page book through an industrial juicer, you'd probably squeeze enough narrative out of it for a brief piece of short fiction. Instead, what we have is a vast metafictional apparatus – dozens of footnotes, 'found' papers, maps, transcripts, interminable appendices – which totters around a narrative that's barely there. It's like seeing an enormous construction of scaffolding used to prop up a Wendy house.Again and again Gunn repeats herself in the most tedious way. I, a lover of footnotes, came to loathe the very sight of the asterisk, by whose baleful redirections she insisted over and again that 'Appendix 10a/ii and pp. 201-6 below may also be of interest here', suggestions that recur with appalling frequency, sometimes three times on a single page. The appendices themselves resemble the kind of notes a writer might compile while preparing a novel and which Gunn has simply dumped on the reader wholesale; they go into ludicrous, unwanted detail on the setting of the book and its history, geography and geology ('The Scottish Highlands are largely composed of ancient rocks from the Cambrian and Precambrian periods…'). Any subtlety in the formal experimentation is nullified by the brash way it's signposted in the text itself, so that more inevitable footnotes will tell you flat out that a particular phrase or word has recurred from earlier in the novel, giving the page number where appropriate, and explaining patiently how this repetition is supposed to mirror some technique of the master piper. Nothing is allowed to surprise you.The very least you expect from a book like this is some evocative descriptions of the landscape, but it's really very little to get excited about. The mood seems to be modelled on Lewis Grassic Gibbon and Neil Gunn (no relation), but without reaching anything like the same level. Kirsty Gunn also sets herself up for a fall by continually reminding us that later movements of the piobaireachd, such as the crunluath, represent the peak of the player's virtuosity and technical skill: in fact, when we get there, we are only given a few more embedded quotations and historical notes. The actual writing style remains plodding and – to me, anyway – frankly boring.It has been said that one definition of a gentleman is someone that can play the bagpipes and doesn't. Kirsty Gunn has written a most ungentlemanly novel.