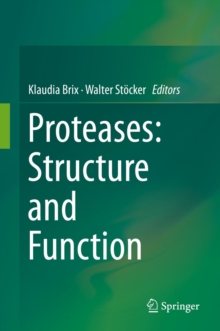 Proteases: Structure and Function
Hardback
Description
Proteolysis is an irreversible posttranslational modification affecting each and every protein from its biosynthesis to its degradation.
Limited proteolysis regulates targeting and activity throughout the lifetime of proteins.
Balancing proteolysis is therefore crucial for physiological homeostasis.
Control mechanisms include proteolytic maturation of zymogens resulting in active proteases and the shut down of proteolysis by counteracting endogenous protease inhibitors.
Beyond the protein level, proteolytic enzymes are involved in key decisions during development that determine life and death - from single cells to adult individuals.
In particular, we are becoming aware of the subtle role that proteases play in signaling events within proteolysis networks, in which the enzymes act synergistically and form alliances in a web-like fashion.
Proteases come in different flavors. At least five families of mechanistically distinct enzymes and even more inhibitor families are known to date, many family members are still to be studied in detail.
We have learned a lot about the diversity of the about 600 proteases in the human genome and begin to understand their physiological roles in the degradome.
However, there are still many open questions regarding their actions in pathophysiology.
It is in this area where the development of small molecule inhibitors as therapeutic agents is extremely promising.
Approaching proteolysis as the most important, irreversible post-translational protein modification essentially requires an integrated effort of complementary research disciplines.
In fact, proteolytic enzymes seem as diverse as the scientists working with these intriguing proteins.
This book reflects the efforts of many in this exciting field of research where team and network formations are essential to move ahead.
Information
Format: Hardback
Pages: 564 pages, 65 Illustrations, color; 33 Illustrations, black and white; XII, 564 p. 98 illus., 65 ill
Publisher: Springer Verlag GmbH
Publication Date: 21/01/2014
Category: Proteins
ISBN: 9783709108840
Free Home Delivery
on all orders
Pick up orders
from local bookshops