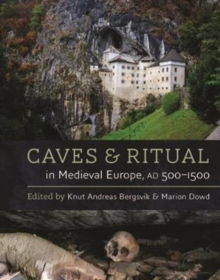 Caves and Ritual in Medieval Europe
Hardback
Description
Caves and rockshelters in Europe have traditionally been associated with prehistory, and in some regions cave archaeology has become synonymous with the Palaeolithic.
However, there is abundant evidence that caves and rockshelters were important foci for activities in historic times.
During the medieval period (here taken as AD 500-1500) caves were used for short-term shelter, habitation, specialised craft activities, storage, as hideaways and for tending animals.
Caves were also used for religious purposes. Caves and ritual in medieval Europe, AD 500-1500 focuses on this neglected field of research - the ritual and religious use of caves.
It draws together interdisciplinary studies by leading specialists from across Europe: from Iberia to Crimea, and from Malta to northern Norway.
The different religions and rituals in this vast area are unified by the use of caves and rockshelters, indicating that the beliefs in these natural places - and in the power of the underworld - were deeply embedded in many different religious practices.
Christianity was widespread and firmly established in most of Europe at this time, and many of the contributions deal with different types of Christian practices, such as the use of rock-cut churches, unmodified caves for spiritual retreat, caves reputedly visited by saints, and caves as places for burials.
But parallel to this, some caves were associated with localised popular religious practices, which sometimes had pre-Christian origins.
Muslims in Iberia used caves for spiritual retreat, and outside the Christian domain in northern Europe, caves and rockshelters were places for carving symbols among Pictish groups, places for human burial, for bear burials amongst the Sami, and places for crafting and votive deposition for Norse populations.
Information
Format: Hardback
Pages: 376 pages, b/w and colour
Publisher: Oxbow Books
Publication Date: 31/12/2017
Category: Medieval European archaeology
ISBN: 9781785708329
Free Home Delivery
on all orders
Pick up orders
from local bookshops