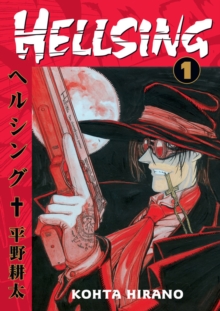 Hellsing : v. 1
Paperback
Description
There's a secret organization somewhere in England created to defend the Queen and country from monsters of all sorts.
Yes, it's hard to believe in this day and age...but really, isn't this the true age of monsters?
Enter Hellsing, an agency, long in tooth, with the experience, know-how, and...er...equipment to handle the problems that arise when vampires, ghouls, and the like take on these dark forces. "What equipment?" you may say. How about another vampire, and a big pistol loaded with special silver bullets?
That oughta do the trick. But what really knocks 'em dead is the sharp wit, awesome artwork, and crazy, bloody action that make up the manga.
Hellsing the long-awaited manga is finally in America, thanks to Dark Horse Comics and the folks at Digital Manga, and you're gonna love it.
Come get some smart-ass gore and action as only Japan seems to produce, in that crazy "non-Western" format the kids seem to love. And nice and thick at a full 200 pages! The night is dark, but at least those wacky anti-heroes from Hellsing can make light of it.
Information
Format: Paperback
Pages: 208 pages, illustrations
Publisher: Dark Horse Comics,U.S.
Publication Date: 16/12/2003
Category: Comics and Graphic Novels
ISBN: 9781593070564
Free Home Delivery
on all orders
Pick up orders
from local bookshops
Reviews
Showing 1 - 5 of 6 reviews.
Previous | Next
Review by jshillingford
16/06/2015
I've never read Manga before Hellsing. I don't really care for short stories (I feel like I've been cheated when I get to the end all too soon) and so I avoided Manga thinking it would be the same. However, after I saw the Anime I wanted to know more so I gave it a try. I was blown away. I didn't realize so much story could be conveyed with images and a little text. I was hungry for more when I got to the end of Volume 1, but fortunately there is more! Alucard is a delicious anti-hero and I highly recommend this series to anyone who enjoys vampire literature.
Review by moonstormer
16/06/2015
A brilliant manga - packed with vampire mythology, awesome characters and a great story. I highly recommend this for manga readers of any kind, as well as vampire enthusiasts.
Review by Sorrel
16/06/2015
This manga was pretty much a let down. The plot was slow moving to non-existent, the characters lacking in appeal, and there is nothing that springs to mind as having been a redeeming feature. The lowdown is that Hellsing is a bad-vampire eradication agency whose star agent is Alucard (no prizes for guessing his background). Alucard really wasn't that interesting as a character - his defining trait seemed to be his condescending, patronising nature.
Review by MCocuzzo2
16/06/2015
The best manga ever! Amazing!!!
Review by SadieSForsythe
16/06/2015
When Alucard opens his eyes in the cold damp dungeon of Hellsing Corp he comes face to face with his new master Sir Integra Wingate and he couldn't be happier with the arrangement. So begins the chaos that is Hellsing. I absolutely love this manga, a little less by the end than in the beginning, but still five stars worth. It is dark, gritty, gothic and just this side of insane. The baddies are bad, but the hero is even worse. Alucard is a psychotic, blood thirsty, vampire with a rye sense of morbid humor. He truly revels in the carnage he creates. Sir Integra Wingate, who by the way is female, is my favorite type of woman-strong, flinch-less, and in complete mastery of an overpowering mythical force, not to mention an assassin-cum-butler and an international 'peacekeeping' organization. Granted, Hellsing does take some getting used to. It's a manga, but set England, the body count is extremely high, and there is enough blood to drown it. But if you like dark manga, Kohta Hirano's worth reading.