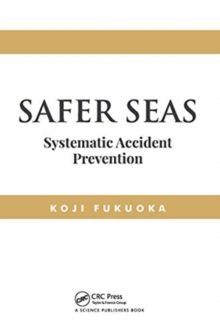 Safer Seas : Systematic Accident Prevention
Paperback / softback
Description
Marine accidents can occur at any time and everywhere in the world, resulting in loss of life, property, environment and reputation of the companies involved.
Preventing accidents and establishing a safer world without accidents is an important agenda for the maritime industry.
Since the enforcement of the International Safety Management Code in 1998, companies have taken various kinds of measures to prevent accidents.
Unfortunately, measures have been undertaken in a disorganized manner, and have not been effective.
Experts of risk management, the safety management system, and accident models have each undertaken accident preventive measures within the scope of their specific fields, but have not looked beyond the realm of their own fields.
This book discusses systematic accident prevention by integrating multi-disciplinary expertise based on academic research, the quality management system which has already proved its effectiveness in other fields, and findings of the author's research.
In systematic accident prevention, the weaknesses of a system within which accidents and incidents have occurred are viewed by combining scientific accident investigation data based on the International Maritime Organization model and the accident model.
The nature of every type of marine accident, such as collisions, groundings, occupational casualties, etc., are derived by combining the accident model and statistical data.
System weaknesses are rectified by the risk reduction method of risk management, and the rectified performance is incorporated in improvement in the system by the PDCA cycle, which is the core of the Safety Management System.
We can see the weakness in the system and reduce the number of accidents and incidents while utilizing limited resources optimally to prevent accidents and incidents.
Information
Format:Paperback / softback
Pages:264 pages
Publisher:Taylor & Francis Ltd
Publication Date:31/03/2021
Category:
ISBN:9780367779504