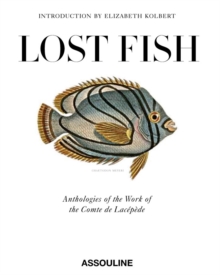 Description
With more than two hundred richly colored, painstakingly detailed antique illustrations, Lost Fish offers a chance to meditate on the dazzling beauty of marine life before it is too late.
Culled from rare eighteenth-century scientific volumes, these stunning prints testify to the ages curiosity about the natural world, which spurred legendary writers to expound on the beauty of creation and etymologists like Linnaeus, Buffon, and his successor, the Comte de Lacepede, to catalogue the species around them.
Today, only the very deepest crevasses of the ocean elude us.
But many of these species so meticulously enumerated by Lacepede are lost forever, or pushed to the ink of extinction, put at risk by the planets changing climate.
Free Home Delivery
on all orders
Pick up orders
from local bookshops