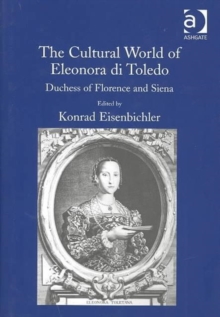 The Cultural World of Eleonora di Toledo : Duchess of Florence and Siena
Hardback
Description
Eleonora di Toledo was a powerful and influential woman who, over the course of nearly a quarter century (1539-62), contributed profoundly to the cultural flowering of ducal Florence.
Her patronage of some of the leading artists of the time, her support of newly arrived Jesuit preachers, her involvement in charitable activities, her unfailing devotion to her husband and his policies, not to mention her successful farming and business ventures are only some of the areas where her influence was unambiguously exercised and felt.
She also provided the House of Medici with a full stable of children to re-invigorate the failing family line, ensure male succession even in the face of unexpected calamities, and provide enough females to establish marriage connections with a variety of noble and ruling houses in Italy. In spite of all these contributions, Eleonora has attracted little attention from scholars.
This apparent disinterest may be a factor of Eleonora's personal style, or of the bad press that, as a Spanish noblewoman, she quickly received from her Florentine subjects, or of modern antipathy for some of the basic characteristics of ducal Florence.
An examination of her impact on Tuscany is long overdue. In fact, a fuller, more nuanced understanding of the duchess can shed a more profound light not only on her as a person, or on her impact on Tuscan culture in the sixteenth century, but also on the contribution of female consorts to the vitality of a successful early-modern state. The essays collected here bring together a variety of scholars working in various disciplines.
While many of the articles take their cue from art history (a natural reflection of the innovative research recent art historians have carried out on the duchess), they also reach out towards other disciplines - political history, literature, spectacle, and religion to mention just a few.
In so doing, they expand our understanding of Eleonora's place in her society and reveal a very complex, determined, and capable woman.
Information
Format: Hardback
Pages: 294 pages
Publisher: Taylor & Francis Ltd
Publication Date: 23/04/2004
ISBN: 9780754637745