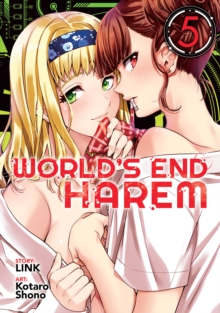 World's End Harem, Vol. 5
Paperback / softback
Description
The Man-Killer Virus: a lethal disease that haseradicated 99.9% of the world's male population.
Mizuhara Reito has beenin cryogenic sleep for the past five years, leaving behind Tachibana Erisa, thegirl of his dreams.
When Reito awakens from the deep freeze, he emerges into asex-crazed new world where he himself is the planet's most preciousresource.
Reito and four other male studs are given lives of luxury and onesimple mission: repopulate the world by impregnating as many women as possible!All Reito wants, however, is to find his beloved Erisa who went missing threeyears ago.
Can Reito resist temptation and find his one truelove?
Information
Format: Paperback / softback
Pages: 180 pages
Publisher: Seven Seas Entertainment, LLC
Publication Date: 11/06/2019
Category: Science fiction
ISBN: 9781947804364
Free Home Delivery
on all orders
Pick up orders
from local bookshops