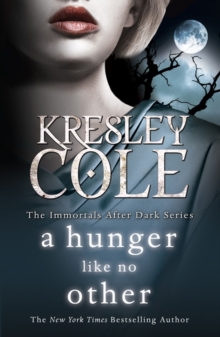 A Hunger Like No other
Paperback
Description
After 150 years of hellish torture at the hands of the vampire horde, Lachlain, king of the Lykae (werewolf) clan, escapes his captors.
He's disoriented and full of hatred, and yet he finds the mate he's been longing for for 1200 years in a small, delicate vampire.
Desperate to find information on her parents, Emmaline Troy, a timid, overprotected half vampire/ half valkyrie, had travelled to Paris away from the protection of her valkyrie aunts for the first time in her young life (she's only 70), but she manages to be kidnapped by a raging Lykae who's tender to her one minute, though-if he is reminded she's a vampire-furious the next...
Information
Format: Paperback
Pages: 384 pages
Publisher: Simon & Schuster Ltd
Publication Date: 03/03/2011
ISBN: 9781849834186
Other Formats
EPUB from £4.99
eAudiobook MP3 from £12.56
Free Home Delivery
on all orders
Pick up orders
from local bookshops
Reviews
Showing 1 - 2 of 2 reviews.
Review by blodeuedd
16/06/2015
My thoughts:I actually started with book 10 or so, fell deeply in love and knew that this was the paranormal romance series for me. So I read book 1, which is a novella (you can get it for free on her website), and then this book. And what I felt then I felt again, she is so good! At first I was a bit taken aback. Lachlain was crazy, too demanding, a brute, a barbarian, I called him so many names. And with any other book I would have frowned, but somehow Cole made me fall for that dog (as some of Emma's family happily calls the Lycae). I have no idea how she manages it, but he just creeps under your skin and stays there.Poor Lachlain, tortured, dying, and brought back to life for 150 years. No wonder he was a bit crazed. He was all alpha, so very alpha. He was also later very protective and sometimes the whole mine thing just makes a girl weak in the knees. Then we have Emma, she is no kickass female, she is actually weak and timid. But all women do not need to be kickass. She just does not want conflicts, but little by little this little weakling gains more strength. They are suited for each other.This is what I want paranormal romance to be like. I am smitten and I like it. The book has plenty of passion, and two people that are so unlikely to fall in love, they are enemies, but they are destined to be together and the road there is not easy.The whole universe is interesting with many different "creatures" running around, making alliances and waging war against each other.Conclusion:Would I recommend this book, yes! Will I read more, I sure will :DRatingMade me love Paranormal romance again
Review by Lauren2013
16/06/2015
A Hunger Like No Other
4 Stars

Synopsis
Emmaline Troy is a halfling - half Vampire and half Valkyrie. She is also the predestined mate of Lachlain MacRieve, the leader of the Lykae clan who has nothing but hatred in his heart for the Vampire Horde. But Lachlain has waited millennia for his mate and nothing will stop him from claiming her - not even the ancient evil from her past which threatens to destroy them both.

Review
*Note: this is actually book #2 in the Immortals After Dark series and is preceded by The Warlord Wants Forever. While it is not necessary to read the novella in order to grasp the basic premise of the story, there are events that could be better understood by reading it.

Cole's world building is intriguing but needs more background information on the various Lore species, particularly the three that feature prominently in the book - the Vampires, Valkyries and Lykae. The plot is typical of the fated mates trope and the vampire threat could have been better developed. The dialogue is hilarious and the writing mainly flows smoothly but some of the transitions between scenes are sudden and disjointed.

Loved the steamy and intense chemistry between Lachlain and Emma. You can't go wrong with a sexy, hot highlander who is also a werewolf (although it is a little disappointing that he doesn't actually shift into a wolf). While he is borderline psychotic at the beginning of the book, this is understandable considering everything he has gone through and, in fact, his ingrained sense of honor does reassert itself quite quickly. Some readers may be offended by his behavior toward Emma but it should be taken within the context of his characterization and the world Cole has built, i.e. the ongoing war and conflict between the different Lore species.

Emma is a likeable heroine and her transition from shy and timid lass to self-confident and kick-ass vampire slayer is a highlight of the story.

The secondary characters are also well-developed and intriguing, especially Emma's aunt Nix (all of her aunts are hysterically funny) and Lachlain's best friend, Bowen who looks like he will slot into my favorite tortured hero category.

Overall, a promising beginning to a compelling series and I look forward to reading more.