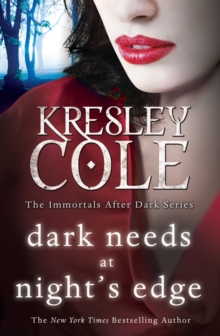 Dark Needs at Night's Edge
Paperback
Description
On the night lovely Neomi Renate, a famous ballerina at the turn of the century, was murdered, an evil force turned her into a spectre - a phantom that's neither alive nor dead - and cursed her to relive her harrowing death every month during the full moon.
Unable to leave her home, she has managed to scare away any trespassers, until she encounters an inhabitant even more terrifying than Neomi herself.
When Conrad Wroth, a vampire warlord who's been half-mad for centuries, first beholds Neomi, he knows nothing will stop him from claiming the ethereal beauty as his own - not even death itself.
Yet even if the gruff warrior can win her love and defeat the evil that surrounds her, he still must determine a way to bring her fully back to life, and back to him.
Information
Format: Paperback
Pages: 400 pages
Publisher: Simon & Schuster Ltd
Publication Date: 01/06/2011
ISBN: 9781849834155
Other Formats
EPUB from £5.99
eAudiobook MP3 from £12.56
Free Home Delivery
on all orders
Pick up orders
from local bookshops
Reviews
Showing 1 - 1 of 1 reviews.
Review by Lauren2013
16/06/2015
Dark Needs at Night's Edge
4 Stars

Synopsis
Turned into a vampire against his will, Conrad Wroth has spent 300 years fighting the bloodlust and memories that have rendered him virtually insane. Sequestered in a haunted house with the ghost of Neomi Laress, a dancer murdered by former fiance, Conrad discovers that there are things with living for but it may be too late to save the only woman he has ever held dear.

Review
Gets off to a slow start but heats up halfway through.

Conrad and Neomi complement each other well - he is a sexually inexperienced and vengeful vampire aching for death while she is a brazen and feisty ghost with a zest for life. Their relationship builds slowly into an enchanting romance, and they have some seriously sexy scenes together.

The writing is entertaining as usual although Cole's use of present tense POV during Conrad's transition into sanity falls a little flat. The gothic atmosphere and haunted house setting are compelling as are the cameo appearances by Nix, who never ceases to crack me up, and Bowen and Mariketa, who have such a wonderful dynamic.

Despite its predictability, the plot has some entertaining elements such as Neomi's klepto tendencies (she reminds me of Anya in LOTR) and Conrad's slow recovery from bloodlust. There are, however, several underdeveloped and even confusing points. Conrad's encounter with the dream demon and his subsequent dream/nightmare curse is never fully explained nor is its effect completely apparent. Moreover, there are references to events in Cade and Murdoch's stories that seem disjointed and even had me feeling that I had missed out on a novella. These inconsistencies will apparently be explained further down the line but can be distracting.

One the whole, the story is good and the ending very satisfying. I enjoyed the original resolution to Neomi's mortality problem and look forward to the next book - it will be interesting to see how Cadeon handles things with his human mate.