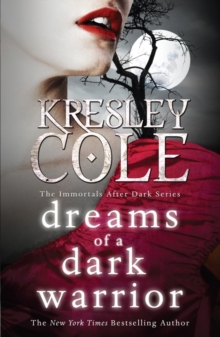 Immortals After Dark #9: Dreams of a Dark Warrior
Paperback
Description
A ruthless Norse warrior will defeat anything standing between him and his beautiful obsession - even Death itself.
A millennium ago, Aidan the Fierce lost his heart to the Valkyrie Regin the Radiant, but he was murdered before he could win her.
Since then, he has reincarnated into different identities, with his memory of the past buried deep.
This time he has returned as Declan Chase, a human soldier bent on exterminating all immortals - including Regin, his newest captive.
The proud Northman that Regin still mourns has been replaced by a twisted madman.
Once tortured by immortals, Chase now metes out vengeance against them, and he's fixated on her.
Regin's only hope is to make him remember her, though she knows that whenever he recovers his memories, history will repeat itself, and he'll be lost to her again...
Information
Format: Paperback
Pages: 368 pages
Publisher: Simon & Schuster Ltd
Publication Date: 01/03/2011
ISBN: 9781849830386
Free Home Delivery
on all orders
Pick up orders
from local bookshops
Reviews
Showing 1 - 2 of 2 reviews.
Review by Aula
16/06/2015
My least favourite of Cole's IAD books. Ever since meeting Regin I've been hoping to read of her story but I was really disappointed in this.The torture scenes were nauseating and sickening - the reason for why there needed to be such graphic torture in a romance evades me; Whether Chase instigated them or not is irrelevant to me.There was nowhere near the same level of sexual tension as in the other books - that utterly carnal desire that is, at times, bordering on the unbelievably simplistic but makes the stories work. This one had next to nothing of that and then a whole lot of graphic violence - lose-lose situation.
Review by lcrabtree
16/06/2015
Been waiting for this one for a while and I wasn't disappointed.<br/><br/>Regin has always been a fun character, if a little unorthodox, and I enjoyed reading about her and Aidan's past. I have to admit I was a little upset reading various bits in this story because I was really wanting them to get together and everytime she got hurt, I wanted to scream at Aidan/Chase. <br/><br/>In my opinion that makes it an amazing story therefore 5 fabulous stars!