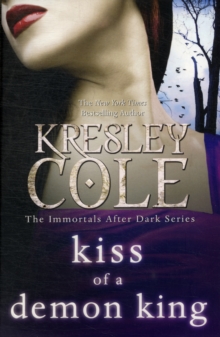 Kiss of a Demon King
Paperback
Description
For centuries, Rydstrom, fallen king of the Rage Demons, has fought to seize his crown, never relenting, until he is tricked into the lair of a exquisite enchantress.
If she can tempt him to her bed, everything he's worked for will be lost.
Sabine the Sorceress of Illusions has long accepted her fate: to seduce a demon king.
But once she kisses the brutal warrior, she realizes seduction is far from the punishment she'd feared.
Yet just when they begin to fall for each other, one will be forced to make the ultimate sacrifice.
Will Sabine give up the only life she knows to save her demon? Or will the proud king lay down his crown and arms to keep his sorceress...?
Information
Format: Paperback
Pages: 432 pages
Publisher: Simon & Schuster Ltd
Publication Date: 01/06/2011
Category: Romance
ISBN: 9781849834179
Other Formats
EPUB from £4.99
eAudiobook MP3 from £12.56
Free Home Delivery
on all orders
Pick up orders
from local bookshops
Reviews
Showing 1 - 2 of 2 reviews.
Review by wyvernfriend
16/06/2015
Honestly it almost lost me when he kept trying to make her something other than what she is, granted they needed to compromise and that's important in a relationship but compromise needs work from both sides, not just a one-sided affair. He seemed to only see compromises that she has to make and not him. I also have a huge problem with fated love where neither party seem to have much in common, love is more work than that, marriage even more.The turn-on sex scenes were pretty good and did get me a little hot and bothered but overall it was meh, I didn't care all that much about the characters, I was curious to see what happened but not really cuaght up in it and I felt somewhat cheated by the alpha male chest-beating.
Review by Lauren2013
16/06/2015
Kiss of the Demon King
4.5 Stars

Synopsis
Sabine, the Queen of Illusions, lures Rydstrom Woede, deposed King of the Rage Demons to her lair in order to seduce him and produce an heir. Not only does Rydstrom plan to escape but is also determined to claim Sabine as his own. Can these too unlikely lovers overcome the obstacles in their past and defeat the sinister foe standing in the way of their predestined future?

Review
Rydstrom's scene at the end of Dark Desires After Dusk had me salivating to read this one and I wasn't disappointed.

Rydstrom is seriously smokin' and I wouldn't mind keeping him in my dungeon (if I had one). Nevertheless, he is not only a pretty face but honest and honorable, fierce and lusty.

Sabine grew on me like a fungus. Even though she classifies herself as evil, I saw her as a powerful woman willing to do anything to survive. Yes, she is immoral, ruthless, manipulative and untrustworthy but she has her reasons and she is never intentionally cruel or vicious (unless keeping a man sexually frustrated is considered cruel and unusual punishment - he didn't seem to mind too much...).

Sabine and Rydstrom are a perfect, if ironic, match and their clash of wills and battle for dominance is very entertaining (theirs is definitely the most erotic romance so far). Moreover, their journey toward mutual acceptance and a deep emotional connection makes this an excellent addition to the series.

The writing is wonderful as usual and the story within a story prologue establishes the darker tone and atmosphere that characterizes the book as well as providing insight into Sabine's nature. The secondary characters are very compelling, especially Lanthe and Thronos (there's another book in there) and Lothaire - there are no words to describe how much he intrigues me.

Couple of nitpicks - the dungeon scenes are too drawn out and although Omort's demise is satisfying, it is too rushed and a little anti-climactic given all the build up of the war in previous books.

Overall, two thumbs up!