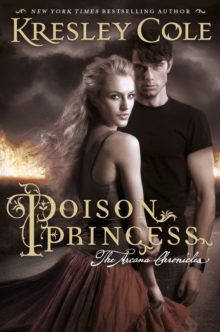 Poison Princess : The Arcana Chronicles
Paperback
Description
Sixteen-year-old Evie Greene thought her horrific apocalyptic hallucinations were a sign that she was slowly losing her mind.
But when her visions come true, decimating the world around her and killing everyone she loves, Evie is forced to accept that she was seeing the future.
Fighting for her life and desperate for answers, she turns to wrong-side-of-the-bayou classmate, the gorgeous and dangerous Jackson Deveaux for help.
As Jackson and Evie race to find the source of her visions, they meet others who have got the same call and discover that Evie is not the only one with special powers.
An ancient prophesy is being played out, and as the battle between good and evil intensifies, it is not always clear who is on which side...
Information
Format: Paperback
Pages: 384 pages
Publisher: Simon & Schuster Ltd
Publication Date: 01/10/2012
Category: Fantasy
ISBN: 9780857079190
Free Home Delivery
on all orders
Pick up orders
from local bookshops
Reviews
Showing 1 - 1 of 1 reviews.
Review by wyvernfriend
27/08/2015
Now I'm someone with more than a passing knowledge of the Tarot, rusty knowledge but it's there, so this should have been right up my alley, nope, didn't work for me. It wasn't terrible, but I just didn't give a damn about the characters or the situation. After a catastrophe that ends with many people in a pile of ash and surface water gone, the world is full of water thirsty zombies, militia and no order. Evangeline 'Evie' Greene has survived but the visions she had before weren't psychosis, they were true, and she's still having more. One of the people who have survived is Jackson Deveaux, a boy from the backwoods, an excuse for the author to slip in a lot of Cajun patois. The story is framed by a visit to a serial killer where our heroine tells him her story and honestly the timescale feels off.I didn't care, I don't care and this is a series I won't be continuing.Also as a side note, riding a Ducatti without proper protective equipment where theres a lot of debris on the roads is a short cut to permanent injury.