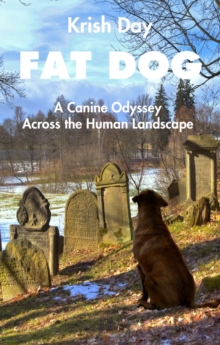 Fat Dog : A Canine Odyssey Across the Human Landscape
Paperback / softback
Description
Albert is an ageing labrador. He lives with his master, the Professor, an academic of some renown, in a small town somewhere in Germany, a community largely untouched by history and the larger world beyond.
Much bereaved by the loss of his beloved mistress, the Professor's wife, Albert leads a quiet existence observing the follies and foibles of the humans around him.
The arrival of Fraulein Breitfuss, the new Head Librarian, a flamboyant young woman of dubious provenance, sends ripples through the slumberous town.
The male populace is agog, the womenfolk suspicious... and Albert is not happy when she moves into the Professor's life.
Neither are the locals when she also attempts to shake the community out of its habitual lethargy with an Arts Festival.
The affair between the Professor and the librarian takes a dramatic turn when the woman's unexpected and intricate past presents itself.
Rendered homeless by the tragic end of the liaison, unable to renew love and fealty to a new master, Albert takes to the woods above the town, in imitation of imagined ancestors hunting in the wilds.
Albert's narrative weaves together episodes from the lives of a colourful cast of characters.
Blending high farce and sombre realities, small vanities and impossible dreams, love found and love lost, the tale winds through a century of drama and conflict with a seemingly guileless innocence.
Finally, Albert dimly perceives human lives as the tragicomic sum of accident, whim and fancy, rather than the orderly outcome of principles and high ideals.
Fat Dog is narrated by Albert the labrador, but is not a traditional 'pawtobiography'.
As the tale proceeds, the canine voice gradually becomes merely that of a raconteur, allowing the events and episodes to unfold on their own, with occasional and detached musings on the human condition.
It is an enjoyable read for any fans of fiction that offers a quirky insight into human nature.
Information
Format: Paperback / softback
Pages: 368 pages
Publisher: Troubador Publishing
Publication Date: 28/03/2015
ISBN: 9781784621643
Free Home Delivery
on all orders
Pick up orders
from local bookshops
Also by KRISH DAY