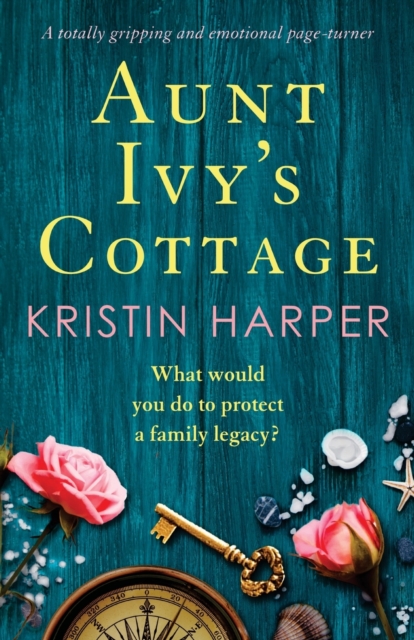 Aunt Ivy's Cottage : A totally gripping and emotional page-turner
Paperback / softback
Description
Up in the attic, with views across the sparkling bay, she opens the lid of the carved trunk. Carefully moving aside the delicate linen wedding dress once worn by her great-aunt, she unpacks all the smaller boxes inside until she finds the leather-bound diary. She knows this will change everything...
All Zoey's happiest childhood memories are of her great-aunt Ivy's rickety cottage on Dune Island, being spoiled with cranberry ice cream and watching the tides change from the rooftop. Now, heartbroken from a recent breakup, Zoey can see her elderly aunt's spark is fading, and decides to move to the island so they can care for each other.
When she arrives to find her cousin, Mark, sitting at the solid oak kitchen table, she knows why Aunt Ivy hasn't been herself. Because Mark-next in line to inherit the house-is pushing Ivy to move into a nursing home.
With the cousins clashing over what's best for Ivy, Zoey is surprised when the local carpenter who's working on Ivy's cottage takes her side. As he offers Zoey comfort, the two grow close. Together, they make a discovery in the attic that links the family to the mysterious and reclusive local lighthouse keeper, and throws doubt on Mark's claim...
Now Zoey has a heartbreaking choice to make. The discovery could keep Ivy in the house she's loved her whole life... but can Zoey trust that the carpenter really has Ivy's best interests at heart? And will dredging up an old secret destroy the peace and happiness of Ivy's final years-and tear this family apart for good?
A stunning and emotional read about old secrets, new love and never forgetting the importance of family. Perfect for fans of Mary Ellen Taylor, Robyn Carr and Mary Alice Monroe.
Read what everyone's saying about Kristin Harper:
'Absolutely loved... completely unable to put this one down... perfect... Absolutely gorgeous.' Little Miss Book Lover 87, ⭐⭐⭐⭐⭐
'5 big stars! I loved everything about this book... The setting, the story, the characters, and the writing were all beautifully done. Perfect read.' Goodreads Reviewer, ⭐⭐⭐⭐⭐
Information
Format:Paperback / softback
Pages:326 pages
Publisher:Bookouture
Publication Date:07/12/2020
Category:
ISBN:9781838888299
Information
Format:Paperback / softback
Pages:326 pages
Publisher:Bookouture
Publication Date:07/12/2020
Category:
ISBN:9781838888299