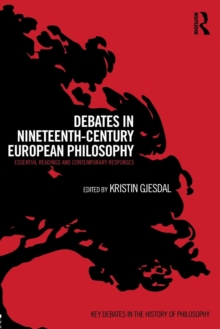 Debates in Nineteenth-Century European Philosophy : Essential Readings and Contemporary Responses
Paperback / softback
Description
Debates in Nineteenth-Century European Philosophy offers an engaging and in-depth introduction to the philosophical questions raised by this rich and far reaching period in the history of philosophy.
Throughout thirty chapters (organized into fifteen sections), the volume surveys the intellectual contributions of European philosophy in the nineteenth century, but it also engages the on-going debates about how these contributions can and should be understood.
As such, the volume provides both an overview of nineteenth-century European philosophy and an introduction to contemporary scholarship in this field. KEY DEBATES IN EUROPEAN NINETEENTH-CENTURY PHILOSOPHYKristin Gjesdal (ed.)ContributorsEditor's IntroductionI.
Kantian Presuppositions1. The Reception of the Critique of Pure Reason in German Idealismby Rolf-Peter Horstmann2.
The Reception of the Critique of Pure Reason in German Idealism: A Response to Rolf-Peter Horstmannby Paul Guyer II.
Fichte (1762-1814)3. Fichte's Original Insightby Dieter Henrich4. Fichte's Original Insight: Dieter Henrich's Pioneering Piece Half A Century Laterby Gunter Zoeller III.
Romanticism 5. Philosophical Foundations of Early Romanticismby Manfred Frank6.
Response to Manfred Frank, "Philosophical Foundations of Early Romanticism"by Michael N.
Forster IV. Hegel (1770-1831)7. From Desire to Recognition: Hegel's Account of Human Socialityby Axel Honneth8.
On Honneth's Interpretation of Hegel's "Phenomenology of Self-Consciousness"by Robert B.
Pippin V. Schelling (1775-1854)9. The Nature of Subjectivity: The Critical and Systematic Function of Schelling's Philosophy of Nature by Dieter Sturma10.
Nature as Unconditioned? The Critical and Systematic Function of Schelling's Early Worksby Dalia Nassar VI.
Schopenhauer (1788-1860)11. The Real Essence of Human Beings: Schopenhauer and the Unconscious Will by Christopher Janaway12.
Emancipation from the Willby David E. Wellbery VII. Comte (1798-1857)13. Auguste Comte and Modern Epistemologyby Johan Heilbron14.
Why Was Comte an Epistemologist?by Robert C. Scharff VIII. Mill (1806-1873)15. Mill: The Principle of Libertyby John Rawls16. John Rawls on Mill's Principle of Libertyby John Skorupski IX.
Darwin (1809-1882)17. Darwin's Theory of Natural Selection and its Moral Purposeby Robert J.
Richards18. Response to Richardsby Gabriel Finkelstein X. Kierkegaard (1813-1855)19. Kierkegaard's On Authority and Revelationby Stanley Cavell20.
A Nice Arrangement of Epigrams: Stanley Cavell on Soren Kierkegaardby Stephen Mulhall XI.
Marx (1818-1883)21. Marx's Metacritique of Hegel: Synthesis Through Social Labor by Jurgen Habermas22.
Epistemology and Self-Reflection in the Young Marxby Espen Hammer XII.
Dilthey (1833-1911)23. Wilhelm Dilthey after 150 Years (Between Romanticism and Positivism)by Hans-Georg Gadamer24.
Gadamer on Diltheyby Frederick C. Beiser XIII. Nietzsche (1844-1900)25. Nietzsche's Minimalist Moral Psychologyby Bernard Williams26.
Naturalism, Minimalism, and the Scope of Nietzsche's Philosophical Psychologyby Paul Katsafanas XIV.
Freud (1856-1939)27. Bad Faith and Falsehoodby Jean-Paul Sartre28. Freudby Sebastian Gardner XV. Twentieth-Century Developments29. Analytic and Conversational Philosophyby Richard Rorty30.
Not Knowing What the Right Hand is Doing: Rorty's "Ambidextrous" Analytic Redescription of Nineteenth-Century Hegelian Philosophyby Paul Redding References for Republished TextsAccompanying Original Works (Suggested Reading)
Free Home Delivery
on all orders
Pick up orders
from local bookshops
Also in the Key Debates in the History of Philosophy series | View all