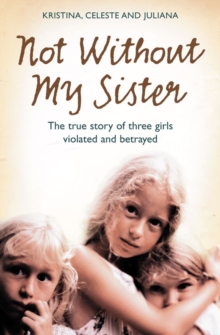 Not without My Sister : The True Story of Three Girls Violated and Betrayed by Those They Trusted
Paperback
Description
The bestselling, devastating account of three sisters torn apart, abused and exploited at the hands of a community that robbed them of their childhood.
It reveals three lives, separate but entwined, that have experienced unspeakable horror, unrelenting loyalty and unforgettable courage.From as early as three years old, Juliana, Celeste and Kristina were treated as sexual beings by their 'guardians' in the infamous religious cult known as the Children of God.
They were made to watch and mimic orgies, received love letters and sexual advances from men old enough to be their grandfather, and were forced into abusive relationships.
They were denied access to formal schooling, had to wander the streets begging for money, and were mercilessly beaten for 'crimes' as unpredictable as reading an encyclopaedia.Finally, unable to live with the guilt of what had happened to her children, their mother escaped with Kristina, cutting herself off from her remaining children in a bid to save at least one child.
Desperate to save her sisters, Kristina eventually returned to the place of her torture to free Celeste.
Years later, Juliana found the courage to escape, knowing that the child she was carrying would be subjected to the same fate if she did not.Now the three sisters have finally come together to reveal in full and horrific detail their existence within the Children of God cult.
Their stories reveal a community spread throughout the world and its legacy of anorexia, depression, drug abuse, suicide and even murder.
Lives are ripped apart and painstakingly mended with a shared strength that finally enabled the sisters to free themselves from the shadows of their past.
Information
Format: Paperback
Pages: 432 pages
Publisher: HarperCollins Publishers
Publication Date: 07/01/2008
Category: Autobiography: general
ISBN: 9780007248070
Free Home Delivery
on all orders
Pick up orders
from local bookshops
Reviews
Showing 1 - 3 of 3 reviews.
Review by Moniica
16/06/2015
Kristina, Celeste and Juliana are three sisters who were born into "Children of God", a cult created by a man named David Berg (also referred to as "grandpa") who said he was God's prophet so they must do as he said. However, the things he told them to do were horrifying, as all the children experienced severe cases of physical, sexual and emotional abuse. Now they are grown ups and are no longer part of the cult - this is their story.As horrifying as it was, I thought this book was very well written and I enjoyed reading the encouraging stories of how they all finally broke free from the cult. There are many gruesome experiences in this book, but also a story of hope and unity.
Review by Babygirl25661
16/06/2015
OMG..is all i can say. I was shocked to think that this "religious group" and it's founders are still out there doing this to more innocent children. I am appalled that nothing has been done to bring these children justice. I have seen brainwashing and abuse before. I understand how it can totally twist your whole perception of life and leave eternal scars,but never have i seen it on such a large scale and with children!! God bless these 3 sisters and the other ex-members for trying to do something about it.This book will bring about every emotion you can think of. I thought the book was very well written. Even though the story was written in 3 seperate versions, i was easily able to keep up. I dont know if anyone can read this book and not feel emotionally involved. It will definitely get to you so go ahead and get the tissues ready...
Review by bookwormteri
16/06/2015
Wow, an amazing and horrible read. Horrible only in the sense that these women (and many other children) lived through horrific emotional, physical, and sexual abuse at the hands of cultists. No, these girls weren't kidnapped, their parents raised them in this culture of rape and denigration. I don't think that I have ever heard of the Children of God cult previously. It's beginnings, in the 1970's, started very flower child-y and then moved on to child molesting (you have to share your love with others in order to love Jesus, even very young children), brainwashing, and subjugation of women. Ugh...just horrible, but a fascinating read. Glad to see that these three made it out mostly okay, as opposed to the leader's son who left the cult and killed himself. Amazing.