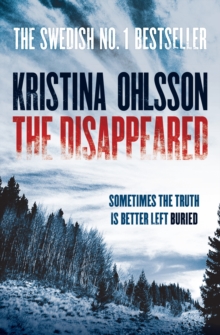 The Disappeared
Paperback
Description
'When the film begins she has no idea what she is about to see.
Nor does she realise what devastating consequences this film and the decisions she then makes will have on the rest of her life.' The body of a young woman is found carved up and buried in a forest glade in an innocuous Swedish suburb.
Alex Recht and his team in the Stockholm Police soon identify the body as belonging to missing student, Rebecca Trolle, but as his team continues to excavate the site, they soon find that someone has been returning to the same spot to bury their victims year after year, decade after decade.Investigative Analyst Fredrika Bergman is assigned the task of delving into Rebecca's private life.
But little does she know that her enquiries are about to uncover evidence that will put her actions under scrutiny from Internal Affairs, and will throw her private life into turmoil. And what does the case have to do with the elderly children's author living in a care home . . . who has never spoken a word to anyone since she arrived years ago?
Kristina Ohlsson has already sold more than 830,000 copies worldwide.
Now discover for yourself what makes her Sweden's favourite crime writer.
Information
Format: Paperback
Pages: 576 pages
Publisher: Simon & Schuster Ltd
Publication Date: 16/01/2014
ISBN: 9781471115172
Other Formats
Paperback from £10.65
EPUB from £5.99
Free Home Delivery
on all orders
Pick up orders
from local bookshops
Reviews
Showing 1 - 1 of 1 reviews.
Review by AdonisGuilfoyle
16/06/2015
One positive knock-on effect of reading Stieg Larsson's Girl trilogy (or two out of three, anyway) is that I have developed an interest in Scandinavian crime novels, but where Larsson's macho fantasy failed to convince, Kristina Ohlsson's writing succeeds with style. This is actually the third in the series about detectives Fredrika Bergman and Alex Recht, but apart from missing out on their backstory, reading out of order didn't ruin the story.The body of a student found in a shallow grave and an old woman in a nursing home who is hiding dark secrets behind a vow of silence. How are the two connected? Alex Recht, Fredrika Bergman and Peder Rydh are determined to find out, but first the detectives must face their own personal demons. The mystery is neatly paced, with the usual red herrings and steady supply of fresh (or less than fresh, in this case) victims, and the central characters are all believable, which makes a satisfying change, after Lisbeth Salander. Each chapter ends with a transcript of dialogue from an internal affairs investigation into the detectives' handling of the case, treading a thin line between trailer and spoiler for the outcome of the mystery. Who is putting the investigation into jeopardy? I did find the fact that all three professionals were personally connected to either the victim or the suspects slightly far-fetched, but the resulting tension is worth the suspension of disbelief. I guessed the sub-mystery, and found the identity of the murderer slightly disappointing, but overall, an engrossing and well-written read. I will definitely look up more of Kristina Ohlsson's novels!