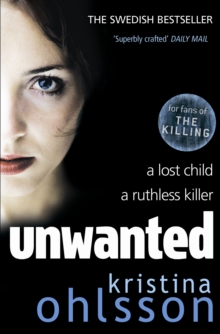 Description
In the middle of a rainy Swedish summer, a little girl is abducted from a crowded train.
Despite hundreds of potential witnesses, no one noticed when the girl was taken.
Her mother, left behind at the previous station, alerted the crew immediately.
But as the train pulled into Stockholm Central Station, the girl was nowhere to be seen.
To Inspector Alex Recht of the Stockholm police, this looks like a classic custody row.
But none of the evidence adds up and young Investigative Analyst Fredrika Bergman is convinced the case is far more complex than her boss is prepared to admit.So when the missing child is found dead in the far north of Sweden, with the word UNWANTED scribbled on her forehead, the rule book is finally thrown out of the window.
Now on the trail of a ruthless murderer with a terrifying agenda, will Alex and Fredrika manage to put aside their differences and work together to find the killer, before it's too late?
Information
Format: Paperback
Pages: 480 pages
Publisher: Simon & Schuster Ltd
Publication Date: 21/06/2012
Category: Crime & mystery
ISBN: 9781849831307
Free Home Delivery
on all orders
Pick up orders
from local bookshops
Reviews
Showing 1 - 1 of 1 reviews.
Review by readingwithtea
16/06/2015
"A mother who didn't care at all must be worse than one who cared too much."Little Lilian Sebastiansson vanishes from a crowded train in broad daylight, leaving only a pair of shoes. Her mother, stuck at the previous station, alerts the authorities immediately, who assume it must be a custody row. Only when none of the clues adds up does Alex Recht's special team start to look outside the custody box. Fredrika Bergman, civilian recruit, can't believe how stuck in their ways this crack team is. Peder Rydh can't believe how Fredrika is favoured over proper policemen. Meanwhile more children are disappearing...Ohlsson is only the second author of Scandicrime whose work I have enjoyed (after Stieg Larsson - reviews of his Millenium trilogy 1, 2, 3) - I struggled with Asa Larsson and have yet to get through more than 10 pages of a Jo Nesbo novel. I've been listening to Camilla Läckberg's The Stone Cutter for a while now and if she would only stop introducing new strands of story more than half way into the book I think I could get along with that too.Ohlsson manages to keep herself to two main story threads, with a strong bias towards the police narrative (good) and only occasional changes of perspective to characters outside the main cast. She's not afraid to write fairly graphic domestic abuse and give her thorough knowledge of police workings, her biography page did not surprise me:Kristina Ohlsson (b. 1979) is a political scientist and until recently held the position of Counter-Terrorism Officer at OSCE (the Organization for Security and Co-operation in Europe). She has previously worked at the Swedish Security Service, the Ministry for Foreign Affairs and the Swedish National Defense College, where she was a junior expert on the Middle East conflict and the foreign policy of the European Union.I suspect much of the motivation for writing a somewhat unconventional female protagonist, as well as the relatively dark nature of the crimes described, come from her former working life. It's certainly gripping.In terms of the common denominator between the women whose children are taken, I worked it out pretty early, but possibly because I'm quite sensitive to the topic. I'd be surprised if you got all the way to the reveal without figuring it out, but I certainly didn't know who the bad guy was until the police stormed his flat. You'd struggle to know who he was earlier I think - a minor criticism of the book I have - because he isn't someone who floats in and out of the story in the way the criminal does in most police procedurals (I've started guessing who the perpetrator is in Castle by noting which characters are introduced in the 8-12 minute phase...).Time for a minor rant/apparently cultural observation.There seem to be a few common elements to a Scandicrimenovel that I just need to get used to: fairly very liberal sexual ethics and repeated mention thereof, running a parallel storyline from the perspective of the bad guy without really tieing into the main storyline at all for a long time, and lots of in-fighting in the police force/investigative forces.It's the relationships stuff that gets to me - I've whinged in the past about useless adulterous male protagonists and we have got a serious one in this novel (although to her credit, Ohlsson paints him as a fairly unpleasant character who happens to be a decent policeman, which is quite a change from the stock good/bad cop). I just find it quite strange to be pottering along, here's a new character being mentioned, little more, oh ok switch to the perspective of the new character BAM all their relationship history and their current top three relationship issues which are all tangled up with each other and causing major problems aaaaand back to the plot. Minimal *other* history - education, family, upbringing, faith, other hobbies... Is this a cultural thing? In the Millenium trilogy, lots of reviewers noted that all the characters seemed to do was drink lots of coffee and hop into bed between hacking hard drives!OK rant over. In general, enjoyable, quite fast-paced but plenty of scope for character development, and I was really glad to have the sequel on hand to read straight after this!