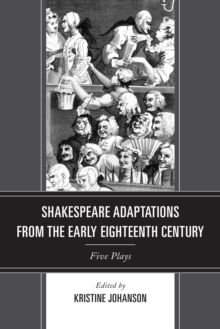 Shakespeare Adaptations from the Early Eighteenth Century : Five Plays
Hardback
Description
This book presents a scholarly edition of five of the first adaptations of Shakespeare from the eighteenth century, the period when Shakespeare became "Shakespeare." Written by men influential in early Augustan cultural spheres, these adaptations demonstrate how contemporary literary principles and contemporary politics were applied to Shakespeare's texts.
In these adaptations of Henry V, Richard II, Coriolanus, 2 Henry VI and 3 Henry VI, we see the various ways that eighteenth-century authors "righted" Shakespeare's "wrongs": through the addition and alteration of female characters and romantic sub-plots, the introduction of new scenes, the use of the unities of time and place, and the inclusion of overt moral and political arguments. The critical introduction contextualizes the five adaptations through its discussion of early eighteenth-century theatre and politics.
First providing an overview of the state of the theatre at the beginning of the Augustan age, the introduction then examines the multiple political conspiracies that rocked the first years of George I's reign and that provide the backdrop to these adaptations.
Furthermore, the introduction draws particular attention to the importance of the actress in the early eighteenth century, highlighting how Shakespeare's adaptors drew on actresses' cultural capital to alter Shakespeare's texts.
Finally, the edition provides a critical introduction to each of the plays.
Extensive explanatory notes are provided, which situate further these plays in their contemporary context.
In its introduction and explanatory notes, Shakespeare Adaptations supplies an important critical apparatus to five plays which are often noted in the annals of Shakespearean theatrical history with derision.
However, this edition reveals how these plays documented their own time and helped shape Shakespeare into the most recognizable literary icon in the Western canon.
Information
Format: Hardback
Pages: 474 pages, 5 Halftones, black and white
Publisher: Fairleigh Dickinson University Press
Publication Date: 11/12/2013
Category: Literary studies: c 1500 to c 1800
ISBN: 9781611476477