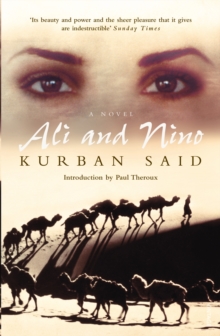 Description
Ali Khan and Nino Kipiani live in the cosmopolitan, oil-rich capital of Azerbaijan which, at the beginning of the twentieth century, is a melting-pot of different cultures.
Ali is a Muslim, with his ancestors' passion for the desert, and Nino is a Christian Georgian girl with sophisticated European ways.
Despite their differences, the two have loved each other since childhood and Ali is determined that he will marry Nino as soon as she leaves school.
But there is not only the obstacle of their different religions and parental consent to overcome.
The First World War breaks out. As the Russians withdraw, the Turks advance, and Ali and Nino find themselves swept up in Azerbaijan's fight for independence.
Information
Format: Paperback
Pages: 240 pages
Publisher: Vintage Publishing
Publication Date: 01/10/2000
Category: Historical romance
ISBN: 9780099283225
Free Home Delivery
on all orders
Pick up orders
from local bookshops
Reviews
Showing 1 - 2 of 2 reviews.
Review by fist
16/06/2015
This unabashedly Orientalist love story, first published in 1937, details the love story between the Azeri boy Ali (standing for Islam and the mystique of the East) and the Georgian girl Nino (symbolising Europe, Christendom and civilisation) against the short-lived independence of Azerbaijan around WWI. The author clearly had some familiary with the Caucasus, and I enjoyed the detailed descriptions of life in old Baku, Dagestan and Teheran, or of the customs of the other nations that co-existed there, such as Georgians, Armenians and Russians. Its sentimentality and its stock characters have aged a bit, and failed to move me. The book ends as could be expected: East is East and West is West.Not knowing that the original had been written in German, I have read this in the English translation, which was old-fashioned and a bit clunky at times (except when it mentioned "joy boys" as potential competitors for the wives in the harem, which suddenly sounded quite modern). The translator omitted to adapt the transliteration out of the Russian to English spelling, resulting in oddities such as 'salam alejkum', 'Iljas' instead of 'Ilyas' and 'Azerbeidschan', which might puzzle readers who don't know German spelling conventions.
Review by DubaiReader
16/06/2015
A little gem of a book.This novel was published in German in 1937, but it was not until 1970 that a chance find resulted in it being republished in English. It represents a rare view into a time long passed, narrated by a youngster who meets the love of his life in Baku, the capital of Azerbaijan.Ali Khan Shirvanshir is a Muslim from the oil rich desert town of Baku and Nino Kipiani is a Christian princess from Georgia. Their paths cross while still in school and Ali Khan is completely besotted. As the first World War approaches, the novel narrates the opinions of the day from an Asian view-point. Georgia is in Europe and Nino's family sees events with a different eye, this is not an acceptable match from their point of view.Ali Khan is determined, but also very respectful. He treats Nino better than many men of his era treated their women.I was particularly fascinated by the references to kidnapping with a view to marriage. I had never heard of this practice until a recent visit to Kyrgyzstan, where our guide informed us that it still took place, even now. Initially Ali Khan resists the move to fight with Russia, he feels this is not his war, but as events bring the battles much closer to home he joins his compatriots in defending Baku. The ending is both sad and brilliant. An excellent book that I will probably read again in the future.