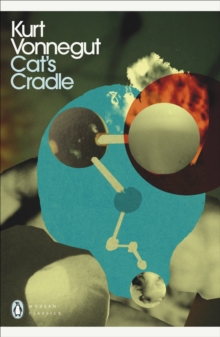 Description
With his trademark dry wit, Kurt Vonnegut's Cat's Cradle is an inventive science fiction satire that preys on our deepest fears of witnessing Armageddon - and, worse still, surviving it.
This Penguin Modern Classics edition includes an introduction by Benjamin Kunkel. Dr Felix Hoenikker, one of the founding 'fathers' of the atomic bomb, has left a deadly legacy to humanity.
For he is the inventor of ice-nine, a lethal chemical capable of freezing the entire planet.
Writer Jonah's search for his whereabouts leads him to Hoenikker's three eccentric children, to an island republic in the Caribbean where the absurd religion of Bokononism is practised, to love and to insanity.
Told with deadpan humour and bitter irony, Kurt Vonnegut's cult tale of global destruction is a frightening and funny satire on the end of the world and the madness of mankind. Kurt Vonnegut (1922-2007) was born in Indianapolis.
During the Second World War he was a prisoner in Germany and present at the bombing of Dresden, an experience he recounted in his famous novel Slaughterhouse Five (1969). His first novel, Player Piano, was published in 1951 and since then he has written many novels, including The Sirens of Titan, Jailbird, Deadeye Dick, Galapagos and Hocus Pocus.
If you enjoyed Cat's Cradle, you might like Philip K.
Dick's The Man in the High Castle, also available in Penguin Modern Classics. 'One of the warmest, wisest, funniest voices to be found anywhere in fiction' Sam Leith, Daily Telegraph 'A free-wheeling vehicle ...An unforgettable ride!' The New York Times 'Vonnegut looked the world straight in the eye and never flinched' J.G.
Ballard
Information
Format: Paperback
Pages: 224 pages
Publisher: Penguin Books Ltd
Publication Date: 01/05/2008
Category: Science fiction
ISBN: 9780141189345
Other Formats
Paperback from £6.09
Hardback from £7.15
EPUB from £4.49
Free Home Delivery
on all orders
Pick up orders
from local bookshops
Reviews
Showing 1 - 3 of 3 reviews.
Review by Iacobus
16/06/2015
So when did the modern novel take the wierd turn? Well, by "modern" I'm really thinking post-1950. You have Graeme Greene and George Orwell pumping out social commentary in a realist vein. Then along comes this absurdist tendency. Obviously I need to read some more...As for Cat's Cradle - yes, some clever stuff, some amusing stuff, even some profound stuff. I liked the narrator's initial reaction to seeing Mona's photo ("peace and plenty!") contrasted with the dippy-profound abstraction he finally pairs up with.But, overall, its hard to take such thinkly applied charicature seriously. It was an enjoyable and worthwhile read, but nothing on the profound and multi-layered experience of how novels can be written.
Review by DRFP
16/06/2015
I thought the novel wonderfully absurd without being particularly <i>funny</i>. It starts slow but eventually Vonnegut starts hitting his targets and thereafter it's another bleak pronouncement on human folly.A good book and a decent starting point for reading Vonnegut, but not the author's best.
Review by edwinbcn
16/06/2015
A few years ago, the remark that Kurt Vonnegut is over-rated and that he would never have become such a famed author had he been born in Europe, unleashed the ire of the Americans I had lunch with. While they were not particularly known for their reading habits, it seemed they considered my comment as a head-on attack on American culture. Like Helene Hanff, Vonnegut is a second-rate, B-writer whose fame rests mainly on American pride.Cat's cradle has now appeared in the Penguin Modern Classics series, which may well be taken as a tribute. Vonnegut's writing does not seem to have its equal in other American authors, but his style is vaguely reminiscent to some psychedelic Dutch authors who wrote during the 1960s and 70s, such as Ward Ruyslinck.Vonnegut seems the be the type, to have possibly written his novels, particularly Cat's cradle, under the influence of some psychedelic stimulant. Given the paranoia in the Land of Freedom to admitting as much, we will supposedly never know, but admission could explain the incoherent structure of the novel.Cat's cradle seemed quite interesting for about the first 50+ pages, but then disintegrated into a lot of twaddle, of which it was impossible to connect head and tail.Best soon to be forgotten, or not picked up at all.
Also in the Penguin Modern Classics series | View all