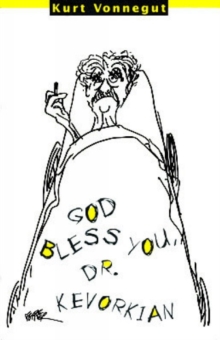 God Bless You, Dr. Kevorkian
Paperback
Information
Format: Paperback
Pages: 96 pages
Publisher: Seven Stories Press,U.S.
Publication Date: 14/12/2010
ISBN: 9781609800734
Free Home Delivery
on all orders
Pick up orders
from local bookshops
Reviews
Showing 1 - 5 of 7 reviews.
Previous | Next
Review by quantum_flapdoodle
16/06/2015
A quirky little book by a master storyteller. The premise is unique: the author inveighs upon Dr. Kevorkian to kill him, he goes to heaven and meets characters from history, and then the good doctor resuscitates him. He makes the trip multiple times, weaving all sorts of stories into a tapestry of politics, history, and literature. My favorite was the visit with Mary Shelley.
Review by rores28
16/06/2015
Typical dry sardonic Vonnegut that any Vonnegut fan has come to know and love. My main gripe is that all of his bickering and cleverness has really been fleshed out more thoroughly in some of his other works (Slaughterhouse Five, Breakfast of Champions) and I feel like once you've read a few Vonnegut books you've read them all.
Review by jimnightshade
16/06/2015
super fun concept, could of/should of been developed more, and maybe made longer, i'd say. but still a great read-- for the half an hour that it lasted.
Review by Matt_Sessions
16/06/2015
A fast and often brilliant novella from a master story-teller, GOD BLESS YOU, DR. KEVORKIAN unfolds in a series of vignettes. The subject matter is life, death, and what comes before and after each, delivered to the narrator -- Vonnegut himself -- by deceased historical figures. Like other Vonnegut work, this book is poignant, elegant, and bursting with wise humor. Vonnegut is never one to waste words, and his compactness here is more pronounced than usual, allowing for rapid-fire bursts of philosophy. Sometimes this compression works against the material, making interactions seem fleeting and occasionally negating their impact. Fortunately, these detractions occur infrequently, making GOD BLESS YOU, DR. KEVORKIAN a fast, excellent read.
Review by jeffjardine
16/06/2015
It's OK, but there just isn't enough material here to warrant a book. It should have been included in a larger collection.