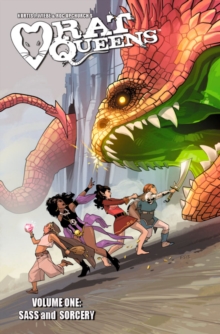 Rat Queens Volume 1: Sass & Sorcery
Paperback
Description
Who are the Rat Queens? A pack of booze-guzzling, death-dealing battlemaidens-for-hire, and they're in the business of killing all god's creatures forprofit.
It's also a darkly comedic sass-and-sorcery series starring Hannah theRockabilly Elven Mage, Violet the Hipster Dwarven Fighter, Dee the Atheist HumanCleric and Betty the Hippy Smidgen Thief.
This modern spin on an old schoolgenre is a violent monster-killing epic that is like Buffy meets Tank Girl in aLord of the Rings world on crack!
Collecting the first five issues of the sold-out hit series at the specialintroductory price of $9.99!
Information
Format: Paperback
Pages: 128 pages
Publisher: Image Comics
Publication Date: 08/04/2014
Category: Fantasy
ISBN: 9781607069454
Free Home Delivery
on all orders
Pick up orders
from local bookshops