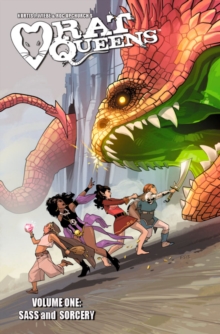 Rat Queens Volume 1: Sass & Sorcery
Paperback
Description
Who are the Rat Queens? A pack of booze-guzzling, death-dealing battlemaidens-for-hire, and they're in the business of killing all god's creatures forprofit.
It's also a darkly comedic sass-and-sorcery series starring Hannah theRockabilly Elven Mage, Violet the Hipster Dwarven Fighter, Dee the Atheist HumanCleric and Betty the Hippy Smidgen Thief.
This modern spin on an old schoolgenre is a violent monster-killing epic that is like Buffy meets Tank Girl in aLord of the Rings world on crack!
Collecting the first five issues of the sold-out hit series at the specialintroductory price of $9.99!
Information
Format: Paperback
Pages: 128 pages
Publisher: Image Comics
Publication Date: 08/04/2014
Category: Fantasy
ISBN: 9781607069454
Free Home Delivery
on all orders
Pick up orders
from local bookshops
Reviews
Showing 1 - 5 of 16 reviews.
Previous | Next
Review by JJbooklvr
16/06/2015
Great characters, art work, and plenty of humor. A very fun read. Highly recommended.
Review by ElizaJane
16/06/2015
Well this was certainly a lot of fun. Fantastic group of female warriors who are different humanoid species with different abilities and powers. They are a kick-ass team who doesn't take any bull. Joining them in the field and on battles are the remains of another female team that includes a huge female orc and an all-male group called the Daves, since they all have the first name "Dave". This is typical sword and sorcery fantasy questing but it doesn't take itself too seriously with a fair amount of tongue-in-cheek humour and one-liners. This is rated mature not because of any sexual content, though there is some innuendo, but because of the violence. It's quite bloody and messy while still funny at the same time. This is the third book I've read by Wiebe and, while not my favourite, I've been impressed with everything I've read of his. The art on the other hand was ok, not bad, but I found facial expressions became repetitive and unattractive. Otherwise a great read!
Review by CareBear36
16/06/2015
Absolutely amazing! I loved this graphic novel. It was hilarious. Phenomenal artwork. Interesting plotline. Unforgettable characters. It has it all and it's definitely worth checking out. Would highly recommend (to a mature audience), especially to fans of Saga.
Review by lquilter
16/06/2015
Really enjoyed it. Foul-mouthed, ass-kicking, humorous, diverse, and entertaining. Recommended!
Review by sraedi
16/06/2015
Love it! Hilarious, good art, great characters, and a story I am interested in following. Very entertaining!