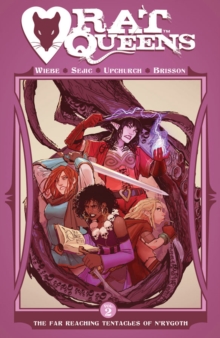 Rat Queens Volume 2 : The Far Reaching Tentacles of N'Rygoth
Paperback
Description
A brand-new, booze-soaked tale of the Rat Queens reveals a growing menacewithin the very walls of Palisade. And while Dee may have run from her past, thebloated, blood-feasting sky god N'rygoth never really lets his childrenstray too far.
Collects issues #6-10 of the smash-hit series, plus extras.
Information
Format: Paperback
Pages: 136 pages
Publisher: Image Comics
Publication Date: 19/05/2015
Category: Fantasy
ISBN: 9781632150400
Free Home Delivery
on all orders
Pick up orders
from local bookshops
Reviews
Showing 1 - 5 of 8 reviews.
Previous | Next
Review by NatalieSW
27/08/2015
I love this comic. Characters each have their own personalities and histories--they're not interchangeable. Good, fun stories and situations, cartoon violence etc. is what it is.
Review by DanieXJ
16/06/2015
Still lots of blood, drugs, and sex. And this time they're going up against a guy who's apparently out to avenge his dead wife.We get a bit of Lola, Sawyer's second, which was cool. And we get some background on Dee, Hannah, and Vi. All of which were very, very cool stories. My favorite definitely being Violet's story. Betty was also in rare, rare form. Hilarious. And then there was Stjepan Šejic's art. I really, really liked it. The other art was good, but my favorite part of the TPB was definitely Šejic's art.I got this advanced galley through Netgalley on behalf of Image Comics and Diamond Book Distributors.
Review by rivkat
27/08/2015
I missed the first volume of this, but that won't be true for long. The Rat Queens are four carousing fighters with backstories of varying levels of complexity. In this volume, a bad guy returns to town on a mission of revenge, targeting the magician Hannah's sometime lover—but it's the skull-necklaced, skeptic Dee who turns out to have the closest connection (as well as a big surprise for the other Rat Queens). I really enjoyed the story, which as you can tell from the title borrows some of the general contours of its bad magic from the Cthulhu mythos, and I also enjoyed the variety of sexualities and body types on display—including some full frontal male nudity, for once.
Review by jen.e.moore
27/08/2015
I love this series, it's gross and crude and ridiculous and fun. Not necessarily brilliant (it's too much a part of its genre, which is "D&D campaigns turned fiction"), but tremendously fun.
Review by leirali
27/08/2015
I loved spending time with the Rat Queens in this second volume! Necromancer/Elf Hannah, Atheist (former) Cleric Dee, sex-and-drugs-crazed Smidgen Betty, and Dwarf Violet are incredibly awesome and fully realized characters with intricacies and flaws that make them seem completely real despite all the fantastical elements. For me, the plot -- the Rat Queens must defeat a tentacled sky God from Dee's former "cult," and they must rescue Hannah's on-again/off-again lover -- played second string to these ridiculously fun and occasionally vulgar characters. I enjoyed every moment because the characters burst off the page fully vibrant and ready for battle. I enjoyed the backstories we get on Hannah and Vi in this arc. However, they did seem out of place and tended to jerk me out of the story a bit. I'm used to comics that make usage of headings that mark the time and place, and something as simple as a note at the top of a panel saying "Years Ago..." would have made sure the story didn't lose me. Still, this momentary confusion didn't knock me out of the story completely. These characters are rich with so much history, and I loved every moment of it. I have never read anything like this before. It's a highly imaginative fantasy story with amazingly crafted, diverse female characters who rely on each other and speak and behave the way we typically expect men to. I can't wait for the next volume.