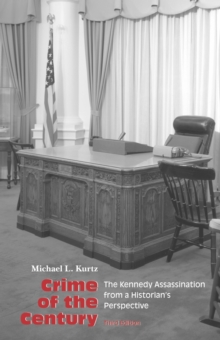 Crime of the Century : The Kennedy Assassination from a Historian's Perspective
Paperback / softback
Description
Now a classic, Michael Kurtz's Crime of the Century recounts the assassination of President John F.
Kennedy on November 22, 1963, and provides a detailed critical analysis of the investigations of the Warren Commission and the House Select Committee on Assassinations.
Kurtz outlines the major areas of controversy about the assassination and sifts all the known evidence before concluding that both official inquiries failed to evaluate the considerable evidence of an assassination conspiracy.
Kurtz also examines each of the most prevalent conspiracy theories and shows how often they fail to fit the facts.
This third edition includes a new introduction, based on updated information about the assassination since the second edition was published in 1993, including material from the National Archives and several major recent interpretations of the events.
Drawing on a variety of primary source materials from the National Archives and the FBI's and CIA's declassified assassination files, Crime of the Century remains a book of importance not only to students of the Kennedy assassination but also scholars of government response to political violence.
Information
Format: Paperback / softback
Pages: 312 pages
Publisher: University of Tennessee Press
Publication Date: 30/12/2013
Category: Crime & criminology
ISBN: 9781621900092