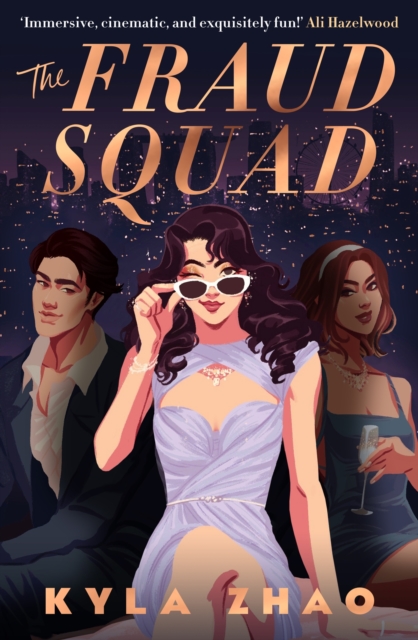 The Fraud Squad : The most dazzling and glamorous debut of 2023!
Paperback / softback
Description
' I HAD THE BEST TIME READING THIS BOOK AND IF IT DOESN'T END UP BEING A NETFLIX SERIES I AM GOING TO BE VERY DISAPPOINTED BECAUSE IT'S PERFECT!!!!!!' 'Immersive, cinematic, and exquisitely fun!
The perfect debut' Ali Hazelwood'Escapism at its finest.
This book will swallow you right up and keep you awake until you turn the last page' Elena ArmasCRAZY RICH ASIANS meets THE DEVIL WEARS PRADA, with a dash of GOSSIP GIRL, in this dazzling debut novel. _________Samantha Song has always dreamed of having her own by-line in a high-society magazine.
But the death of her father and the constant struggle to help her mum make ends meet make it feel like a distant fantasy.
Instead, she works at a drab PR firm and lives vicariously through her socialite co-worker Anya Chen. Then she meets Timothy Kingston: the disillusioned son of one of Singapore's elite families, and Sam's one chance at infiltrating the world to which she so desperately wants to belong.
To Sam's surprise, Tim and Anya both agree to help her make a name for herself, but the borrowed designer clothes and plus-ones to every party and major event can only get her so far; the rest is on Sam. The deeper she goes though, the more she fears being exposed. And with an anonymous reporter on the prowl for high-society gossip, Sam must scramble to reconcile her pretence with who she really is before she loses it all. Packed full of glitz and glamour, food and fashion and heaps of heart, THE FRAUD SQUAD is perfect for fans of Kevin Kwan and Lauren Ho. 'As glamorous and page-turning as a glossy magazine, infused with sharp class critique, a vibrant cast of characters, and a poignant emotional core' Ava Wilder'Rich with clever charm and scandalous sparkle, The Fraud Squad introduces a delightful and daring new voice in Kyla Zhao' Emily Wibberley and Austin Siegemund-Broka 'Lush, swoony, and delightfully exquisite, The Fraud Squad is an unputdownable debut that will transport you into the lavish world of Singaporean high society' Amy Lea 'Delightful and unpredictable' Cosmopolitan 'Zhao's debut is a sparkly page-turner . . . A delightful blend of emotion and aspiration' Booklist_________REAL READERS ARE LOSING THEIR HEARTS TO THE FRAUD SQUAD:' One of my fav reads of the year!!!'' This book was EVERYTHING!'' I absolutely LOVED this book!
The characters were phenomenal, especially Sam, and the story was just *chef's kiss*'' Such a poignant, hilarious, and wildly fun read!!!!
YOU WON'T REGRET READING IT!' ' Wow! I read it in a single day . . . The vivid descriptions of Singapore and the food there made me want to visit immediately.
I couldn't put it down!' ' OMG, I LOVED this book . . . The romance at the heart of this had so much sizzling chemistry it kept me turning the pages hoping for more' ' If you want to read something that combines beautiful scenery, complex characters, romance, and drama, I highly recommend The Fraud Squad!' ' Five luxurious, hilarious, heartwarming stars!'
Information
Format:Paperback / softback
Pages:368 pages
Publisher:Headline Publishing Group
Publication Date:17/01/2023
Category:
ISBN:9781472296955
Other Formats
Paperback / softback from £9.99
EPUB from £3.99
Information
Format:Paperback / softback
Pages:368 pages
Publisher:Headline Publishing Group
Publication Date:17/01/2023
Category:
ISBN:9781472296955