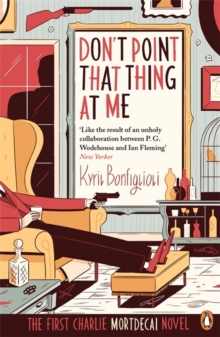 Don't Point That Thing at Me : The First Charlie Mortdecai Novel
Paperback
Part of the Mortdecai series
Description
Don't Point That Thing At Me by Kyril Bonfiglioli - Book 1 of the Mortdecai Trilogy, now a major motion picture starring Johnny DeppIntroducing the Hon.
Charlie Mortdecai, art dealer, aristocrat and assassin, in the first of the Mortdecai novelsPortly art dealer and seasoned epicurean Charlie Mortdecai comes into possesion of a stolen Goya, the disappearance of which is causing a diplomatic ruction between Spain and its allies.
Not that that matters to Charlie ... until compromising pictures of some British diplomats also come into his possession and start to muddy the waters.
All he's trying to do is make a dishonest living, but various governments, secret organizations and an unbelievably nubile young German don't see it that way and pretty soon he's in great need of his thuggish manservant Jock to keep them all at bay ... and the Goya safe.First published in the 1970s, this hilarious novel is part Ian Fleming part P G Wodehouse.
It is now a major motion picture starring Johnny Depp as Mortdecai, Ewan McGregor as Jock and Gwyneth Paltrow.'A rare mixture of wit and imaginative unpleasantness' Julian Barnes'You couldn't snuggle under the duvet with anything more disreputable and delightful' Stephen Fry'The jokes are excellent, but the most horrible things keep happening...
Funny and chilling' Sunday TelegraphKyril Bonfiglioli was born on the south coast of England in 1928 of an English mother and Italo-Slovene father.
After studying at Oxford and five years in the army, he took up a career as an art dealer, like his eccentric creation Charlie Mortdecai.
He lived in Oxford, Lancashire, Ireland and Jersey, where he died in 1985.
He wrote four Charlie Mortdecai novels, and a fifth historical Mortdecai novel (about a distinguished ancestor).
Information
Format: Paperback
Pages: 176 pages
Publisher: Penguin Books Ltd
Publication Date: 05/06/2014
Category: Crime & mystery
ISBN: 9780241970256
Free Home Delivery
on all orders
Pick up orders
from local bookshops
Reviews
Showing 1 - 2 of 2 reviews.
Review by Eyejaybee
16/06/2015
I can't remember when I last read a book that I disliked as much as this paltry excuse for a novel. The fatuousness of the plot was matched by the inanity of the characters and the inadequacy of the prose. The cover was adorned with critics' recommendations promising a humorous feast of a book but I found it about as funny as a bout of dysentery.
Review by wyvernfriend
16/06/2015
The (Dis)Honourable Charlie Mortdecai is a slightly shady art dealer, he has annoyed enough people that he has a resident thug, who also sometimes buttles for him. A sort of Jeeves but with fisticuffs. This story involves him in a stolen painting, murder and blackmail, and brings him through some secret agencies that don't stint the torture to find out what they want.And he is a tit-man, women are only really tit-carriers and really don't feature much more than that as characters, then again he has no regard for many other people in the story either, there were phrases and sequences that made me laugh out loud but it almost felt too clever for it's own good, the story was there to carry the jewels of bon mot and not much else.Not bad but it didn't quite hit me in the funny bone like it seems to have many others. Some of the humour is a little obvious, but some was quite clever.