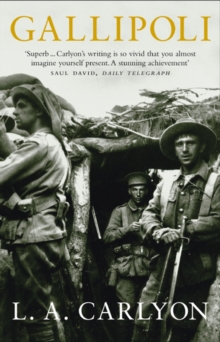 Description
'Because it was fought so close to his old home ground, Homer might have seen this war on the Gallipoli Peninsula as an epic.
Brief by his standards, but essentially heroic. Shakespeare might have seen it as a tragedy with splendid bit-parts for buffoons and brigands and lots of graveyard scenes.
Those thigh bones you occasionally see rearing out of the yellow earth of Gully ravine, snapped open so that they look like pumice, belong to a generation of young men who on this peninsula first lost their innocence and then their lives, and maybe something else as well...'Gallipoli remains one of the most poignant battlefronts of the First World War and L.
A. Carlyon's monumental account of that campaign has been rightfully acclaimed and a massive bestseller in Australia.
Brilliantly told, supremely readable and deeply moving, Gallipoli brings this epic tragedy to life and stands as both a landmark chapter in the history of the war and a salutary reminder of all that is fine and all that is foolish in the human condition.
Information
Format: Paperback
Pages: 784 pages
Publisher: Transworld Publishers Ltd
Publication Date: 01/10/2003
Category: General & world history
ISBN: 9780553815061
Free Home Delivery
on all orders
Pick up orders
from local bookshops
Reviews
Showing 1 - 3 of 3 reviews.
Review by rcss67
16/06/2015
Gallipoli is still THE defining Australian myth, where plucky little Australia (and New Zealand) proved themselves worthy nations on the battlefield. And what a battlefield, so close to the ancient city of Troy and Homer's enduring portrait of men at war. Carlyon is a wel known sports reporter in Australia, but this book is a step up in class and he handles it well. I have a relative buried at Shell Green and have been to three Dawn Services at Amzac Cove and the deep emotions the windswept landscape brings harks back to family stories. Carlyon has captured a lot of this emotion and has not been afraid to skewer some Australian myth making, giving a more well-rounded portrait of an exercise that over the passing decades has been lauded as nation-defining and a imperial bloodbath. But anyone who has stood at the Light Horse trenches at The Nek can never forget the courage of these fellow Australians. The turks too are not forgotten, and the continuing hopsitality they show to Aussie and Kiwi pilgrims is often genuine.
Review by liehtzu
16/06/2015
This must be one of the most detailed (but partial) histories of the Gallipoli campaign ever written, a credit to the extraordinary research carried out by the author and his ability to marshal it all into a coherent thread. But the devil is in the detail and, unless you're fanatical about this tragic endeavour, the detail is mind numbing. This is a pity because he captures some amazing human stories. Another wee whinge; forgivable given the author's antipodean antecedents, but you would think that this was an ANZAC only campaign, that some Englishmen may have had some passing interest in the action, acknowledged because they are from the Mother country after all. There is little or no mention of, for example, the approximately 3,500 from the 10th Irish Division alone that died. All this means really is that the book is mis-titled, it's not about Gallipoli but about ANZAC Gallipoli. This is entirely pardonable given the enormous consequences for New Zealand and Australia that this battle had – and has to this day. A book not for the faint hearted.
Review by JohnPhelan
27/08/2015
Solidly in the 'Donkeys' tradition of World War One history, Carlyon's <i>Gallipoli</i> is an angry book but there is much to be angry about in this campaign. The description of the battle of the Nek is the book's high point but its anger clouds much else; do we really need so many laboured references to Hunter-Weston and butchery? Partly because of the endless sarcasm and also because Alan Moorehead was a better writer, there is nothing here that moved me in the same way as the account of the landings at Helles on April 25th nor of the suicidal Turkish assaults of May in Moorehead's book. Even Compton Mackenzie's famous 'kettle' story is dusted off again but to less effect than in Moorehead's better book.