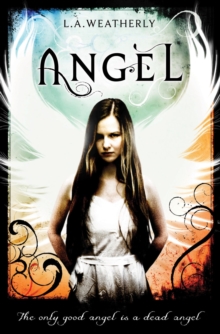 Description
Willow knows she's different from other girls. And not just because she loves tinkering around with cars.
Willow has a gift. She can look into people's futures, know their dreams, their hopes and their regrets, just by touching them.
She has no idea where she gets this power from - But Alex does.
Gorgeous, mysterious Alex knows Willow's secret and is on a mission to stop her.
The dark forces within Willow make her dangerous - and irresistible.
In spite of himself, Alex finds he is falling in love with his sworn enemy.
Information
Format: Paperback
Pages: 512 pages
Publisher: Usborne Publishing Ltd
Publication Date: 14/09/2010
Category: Fantasy
ISBN: 9781409521969
Free Home Delivery
on all orders
Pick up orders
from local bookshops
Reviews
Showing 1 - 5 of 7 reviews.
Previous | Next
Review by cherrymischievous
16/06/2015
The story is not very original. I've recently read something very similar by Danielle Trussoni, titled Angelology. This book won't get high marks for originality. But despite being in a congested genre, L.A. Weatherly puts a nice spin on a tired tale and gave us a beautiful story which would make a reader come back looking for more! For the same reason I buy Jim Butcher, Ilona Andrews and Patricia Briggs even if their books are in a congested genre too... the reason these authors stand out in a competitive field? Masterpiece story telling quality! And judging by this book, L. A. Weatherly could very well have that too. But we will see with the subsequent books if this will hold true or if this is a one-off thing with this book.The story is narrated in the first person by the protagonists. Halfway into the first chapter, the narration swapped from the female protagonist to the male protagonist narrating the story. About a couple of pages after the male protagonist started telling the story, the author seemed to slightly loose perspective and the narration went from the first person to third person. This is confusing to read. I had to go back and re-read a few pages a couple of times to make sure that I am still reading about the same characters. I thought that a new set of characters were being introduced which wouldn't exactly surprise me since the book seems to be in a "introducing characters" mode at this point... only to realise that, no, these are the same characters mentioned a few pages back... And this change in narration perspective without warning is repeated a few times through out the book which is a little disorienting... a slight annoyance but forgivable.My copy is an ARC so the cover is plain. But I had a little look at amazon for the final cover art and it is disappointing. If I was browsing the shelves of a bookstore, this cover art wouldn't register in my "buying radar" at all. Although it did depict the story nicely, it could also seriously use a bit of an artistic input from the likes of Tony Mauro and Gene Mollica. By the way Willow is blonde, not brunette, as might otherwise be suggested by the cover art.I enjoyed this book and am eagerly waiting for the next two books, Angel Heat to come out in May 2010 and Angel Burn to come out in October 2011.Story telling quality = 4.5Character development = 4.5Ending = 4World building = 3.5Story itself = 3Cover art = 2Cherry's Rating: 4 out of 5
Review by Readingfanatic1
16/06/2015
Willow's life is a struggle. She lives with her mom, who is suffering from some form of mental illness and her Aunt, a woman that reminds Willow daily how much of a burden Willow is on her time and resources. To help with the finances, Willow fixes cars (not a common occupation for a girl) and does psychic readings (again, not a common occupation for a girl). The problem with Willow is her psychic readings are real. Since she was a small child, Willow could "read" people. It is a psychic reading of a popular classmate (Beth) that will turn Willow's life upside down. It seems Willow is not exactly "human" (I think the cover gives that away so it is no spoiler). It also seems that both sides- the Angels and the Angel Hunters want her dead. The Angels are not the typical Angels you read about. While they are beautiful, mesmerizing creatures, they also feed on humans for their life force. When the Angels feed, they hypnotize the humans into believing they are helping them. Their "feedings" are the cause for an escalation of depression, disease and eventual death. One of the Angel Hunters is Alex. Immediately the reader thinks "bad boy". However, he is much more than your typical hero "bad boy". Alex was "hired" to kill Willow since she is part Angel. However, he quickly realizes (thankfully, before he kills Willow), that something major is wrong. The author manages to give Alex vulnerability, compassion, and a history filled with sadness and loneliness. Willow and Alex end up going on the run. The story really takes off here. Willow and Alex's travels, narrow escapes, and their budding romance, was by far, the best part of the book. I did have some problems with the book, 1) I felt the cast of minor characters could have been developed more. While this book was about Willow and Alex, to draw the reader into the story more, I think the author could have developed the other characters and given them more depth. 2) The use of the word "um" in the dialogue. I do realize the author was trying to show Willow and Alex's nervousness, hesitation and shyness by having them say "um" when they were speaking but it was way overdone. I actually started to cringe when I saw the word and had to consciously read the sentences without reading the word "um". I cannot imagine how the author's editor or beta readers allowed this word to be used so often. I was hoping for the use of any other words besides "um" but that was the sole word that was used to display nervousness, and shyness. 3) One of the problems when reading very quickly (I finished the book in one day), is I have a tendency to completely immerse myself in the world that author has established. As a result, I seem to "catch" mistakes that the author has made in the story or gaps in the world building logic. In Angel, it happened a few times especially towards the end. I was frustrated because Willow did not do "something" (cannot say- spoiler) that she should have done considering what she was capable of doing. Even with the problems I had with the book, the story was extremely good. I am very eager for book two to come out.
Review by JessicaLouise23
16/06/2015
In a world where angels are beyond redemption, Alex thinks he's found one that might deserve mercy. Alex is a ruthless assassin - of angels. Forget everything you've heard about them before. Angels are not benign celestial creatures, but fierce stalkers whose irresistible force allows them to feed off humans, draining them of their vitality until there is barely anything left. As far as Alex is concerned, the only good angel is a dead angel...until he meets Willow. She may look like a normal teenager but Willow is no ordinary girl. Half-angel, half-human, Willow may hold the key to defeating the evil angels. But as the hunter and the hunted embark on an epic and dangerous journey and Willow learns the dark and terrifying secrets of her past, Alex finds himself drawn to Willow...with devastating consequences.When Angel first landed on my door step a little over a week ago I'm pretty sure my shrieks of joy could be heard from the bottom of my street. To say I was excited is an understatement. I've been wanting to read this book ever since I first heard about it which was towards the beginning of the year and ever since then I've been counting down the weeks until it's release date, so boy was I happy to receive this book a whole week before it hit the bookshops! Angels are my very favourite paranormal creature to read about, their my drug of choice and I buy and devour any books on angels I can find. These beings fascinate me and whilst I have read and loved pretty much every single angel book I've ever read Angel is by far the best book on these celestial beings on the young adult market. Angel is Usborne's first book for teens and it solidly places a respected name amongst young adult books. This makes me very excited to see what else Usborne has for us readers in the future. Hold on to your halos fans of the paranormal because this book is going to be huge!A popular theme on the Teen book market at the moment is taking something bad whether that be vampires, werewolves etc; and reinventing it as something good. L.A Weatherly turns the tables with Angel and turns something heavenly into something deadly. This makes Angel a very much needed breath of fresh air in the young adult market and what is going to set it apart from other books like it. On top of the original concept its fast paced providing constant entertainment right from the very first chapter. I was sucked into this world and didn't want to come out of it so much so that I thought at times I might be suffering from "angel burn" myself! L.A Weatherly's writing has a very nice smooth flow to it that kept the story moving along nicely making it incredibly hard to put down and when I managed on the rare occasion to tear myself away from this book it was still constantly on my mind.Willow is an incredibly likeable character who has a very, sweet, kind personality. Unlike a lot of YA heroines she never once annoyed me. She's the kind of person every girl wants as a best friend. Weatherly also gets it spot on with Alex who has just the right amount of vulnerability and bravery to him, making you want to look after him one minute and swoon over his kick ass-ness the next. Together they make a brilliant couple who you find yourself routing for throughout the book. As they fall in love with each other you fall in love with them more and more too. They develop and complete each other which makes their love feel very real to the reader.Angel is the first book in the trilogy and I can already hardly wait for books two and three with the second book Angel Fire coming out June 2011. I can not begin to recommend this book enough, if you only read one young adult angel book make sure it's Angel! 5 shiny halos.Thanks go to Usborne for sending me this book to review. Angel will be available in all good bookshops October 1st 2010. Book description taken from goodreads.
Review by Bellydancer
16/06/2015
Angels are all around us, sucking the life force from us, feeding from us. They are so mesmerizing that mere mortals are following them setting up The Church of Angels for us to worship them from.But there is a teenage girl Willow, could she be the earth's saviour. She knows she's different from other girl; not just because she loves tinkering around with cars, she has a gift. Just by touching people she can see their future; their dreams, their hopes and their regrets. Along comes Alex who is one of the few who know the truth about angels, and the truth about Willow and her ability. He has been send to get rid of her; to quell dark forces within her, the ones that make her dangerous, but when he meets her finds he is falling in love with his sworn enemy.A fabulous read for those who are paranormal fan, fast moving and full of action this is one to watch.
Review by Liyanna
16/06/2015
This is one of the better Young Adult novels I've read so far. It has romance in it, of course, but more importantly, action too! If it were made into a movie (I can totally picture that), I could even take my boyfriend to see it. It has evil angels who want to feed on humans, hunt our heroes, it has murder attempts, CIA and a thrilling ending.I was pleasantly surprised that it was not religious at all. The angels could easily be replaced by mindreading aliens (which they kind of are, come to think of it). But that would have made Willow a less interesting character, so I'm glad it's about angels after all.Just a tiny remark, the love confession of our heroes didn't do much for me ("I thought you didn't like me" blablabla) and small bits of the book were a bit boring (where they spent weeks hiding in a hut playing cards). But thankfully it is followed by thrilling events.