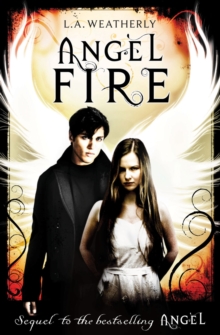 Description
Only Willow has the power to defeat the malevolent Church of Angels - and they will stop at nothing to destroy her.
However, Willow is not alone. She is with Alex, a trained Angel Killer - and her one true love.
Together, they must train a new generation of Angel Killers.
But as a half-angel, Willow can't help feeling like an outcast, even with Alex by her side.
So when a handsome stranger with a tortured past arrives at the AK camp, Willow finds herself inextricably drawn to him.
Information
Format: Paperback
Pages: 720 pages
Publisher: Usborne Publishing Ltd
Publication Date: 01/10/2011
Category: Fantasy
ISBN: 9781409522010
Free Home Delivery
on all orders
Pick up orders
from local bookshops
Reviews
Showing 1 - 4 of 4 reviews.
Review by Bookswithbite
16/06/2015
I really loved this book! There are so many changes, new characters, and new places that made me so happy and giddy while reading this book. I especially loved the emotions in the book as well as the progress of the characters. Since the first book, Alex and Willow are on the run. Things might be all as what they thought.Without any spoilers, I want to express why I loved this book so much. First off, there are some new characters that really made the book much more edgy. Both characters create uncertainty and unstable environments. Many things from the past come up to haunt and destroy Alex and Willow, while others things come up just to complicate it more. I did enjoy what these new characters brought. As the reader, as the new characters bring more story to the story, they also open up doors to that can be bad.The plot line of this book delve deeper into the angels. I loved that Willow is able to learn more about herself that what she thought. Though many fear rose up in Willow, she still kept herself strong and did what need to be done. All the characters in this book, including minor ones, played bigger parts. I like seeing how the minor characters decisions played a big part in the end.All in all, Angel Fire is a great sequel. One that is fast past and very exciting. I thoroughly enjoyed this book far more than I enjoyed the first. Ms. Weatherly gave her readers so much more to be excited about. Ms. Weatherly answered questions, raised more, but left her readers yearning for the third book! I can't wait to read it!
Review by Meradeth
16/06/2015
Okay, right off the bat, this book was an excellent sequel, in my opinion. I've had my share of let-downs for the second book, but this one wasn't one of those instances, and kept up the pace and tone set in book one. I'll admit, I was a little wary of reading it for another reason, though--it's set in el DF (Mexico City). I've spent a lot of time in that city, and while it's not one of my favorite places exactly (it's insanely huge, complicated, and don't even get me started on the traffic!) there are elements that are very near and dear to my heart. So I was a little worried Weatherly wasn't going to do the city justice. Quite the contrary, actually! She did a great job portraying the place, which pleased me (I only had a few quibbles, like it is ALWAYS raining in DF, almost at least once a day!). Anyhow, other than that, Seb's character was spot-on, and as always, Alex was awesome, sizzling, and so perfect for Willow. I can't wait for the next one!
Review by BookLoversLife
16/06/2015
Fantastic second book!!! Loved it. I loved Willow and Alex in the first book and now Seb is thrown into the mix. It has everything the first book has and more. New characters are introduced and a new worry is on Willows head. I can not wait for the third one!!
Review by Amberlouichu
23/09/2015
This is the second book in the "Angel" Trilogy by L.A. Weatherly. The series follows Willow Fields on a path of self-discovery and relationships in a world inhabited by evil angels that suck the life force of humans leaving them damaged for life. This second book continues straight on from where the first book left off with Willow and Alex running once again for their lives...This might be a bit long... I did not enjoy the majority of this book. For a huge number of reasons.1. The book is way too long for a story where not much actually happens in the way of action as you would expect from the plot. Over 700 pages which could easily be halved and the story would flow just the same. The pacing was too slow, dull and boring at times, and it was a huge struggle to carry on reading (the only reason I did was because when I start a series, I have to finish it). The important action scenes were crammed into a small number of pages each and it was just EUGH. A LOT of the story content was just not needed and dragged the whole thing out until it was nearly unbearable. 2. THAT love triangleI'm normally all for love triangles but this was just unnecessary and awkward to read and seemed like it was just there for well, just because.After the whole epicness of the love between Willow and Alex in the first book (which happened way too fast), the chucking in of this love triangle just made their love even more unrealistic and ruined the underlying intimacy of the book. It also made me emotionally distance myself from both Willow and Alex because they became immensely annoying. Alex especially... Just... Eugh... I had such high hopes for him and now he's hypocritical and pathetic.3. RepetitionThis is one of my pet peeves when reading... I understand if repetition is used as a device to help demonstrate characteristics and such but this books just... It was tiring reading how many times the male characters shoved their hands in their pockets, how much I wanted to chop off Seb's curls over his forehead, how Willow felt Seb's love for her (yeah we got it the first 4 times...) and it just felt like I was reading the same conversations over and over again just like "DUDE WE'VE BEEN DOWN THIS ROAD DAMNNNN". This of course doesn't help the overall drag of the book.4. The metaphysical aspect.There are four different viewpoints in this book: Willow (1st person), Alex, Seb and Raziel. In the first book, the chapters divided the viewpoints up but this book switched randomly in chapters and sometimes made it hard to keep up or understand plus some entries were just not needed. At all.5. Things that make you scream at the book until you run out of oxygenEndless supply of money, however little? UnrealisticHow much sex is references in the book as if it's the most important thing between Willow and Alex (which it probably is, thats how little chemistry I feel between them) even on the brink of impending doom...unrealistic (and then it happens but it's over in a few words... Anti-climactic.Willow needs to find herself a backbone and soon... Damn girl.Both Alex and Willow have become so juvenile it's annoying. They're supposed to be 17/18 not 15/16. The way they speak and act in their POVs and towards each other is just "Get over yourselves. Please." It's like who they are now is the complete opposite of the promise they showed with Alex being an assassin, Willow fixing cars, it just makes connecting with their characters very difficult when you don't believe them. All these new characters with no back stories or development? Please don't just add characters simply for story progression, WE NEED A CONNECTION WITH THEM TO CARE. It made me indifferent to the new characters and I pretty much disliked them anyway for their prejudice towards Willow but at the same time, their views on her were more realistic than how quickly Alex fell in love with her. Wesley was the only one we started to connect with out of the new AKs but that was shortly lived.Ok I'm going to stop now because there are some good points to this book too and they helped me finish the book so here are the redeeming qualities:1. SebHe had a backstory you could believe in and he became somewhat the "Voice of Reason" in the book for me. Good character development and such a sweet guy! I felt sorry for him time and time again. Although I feel his part in the "love triangle" was pretty much unnecessary, I probably would have quit this series half way through without him. I actually believe his love for Willow and believe in him as a person but I just wish he wasn't shoved so much into the background and was made more prominent.2. CrusadersI liked that this anti-angel group was added to the book. I like the new twist they bring but again, like Seb, they could have/ should have had a more prominent role and it all felt rushed. When the whole series highlights how the AKs are the only ones fighting the angels and then this group comes out of nowhere it kinda makes the AKs look pathetic even though the AKs are the only ones who can kill the actual angels. So why doesn't Alex recruit some of the Crusaders to be AKs? Oh because there's a full scale war on their hands; ain't nobody got time fo' dat.3. Action sequencesWhen they happened, for however little time, the action sequences were pretty gripping and kept you turning the pages. These were fairly redeeming but I just wanted more action and less of the lovey-dovey which it felt it all centred on.I don't know... I just found this book irritating and slow-paced in places, mostly unnecessary new plot devices were used and development in all aspects of the book were kind of lacking in comparison to the first book.Didn't connect with the characters and became disconnected to those I had in the previous book and actually had trouble getting through it.I'm giving three stars for the action sequences and for Seb :) I also like Weatherly's writing style, I just wish the focus was more on the action than on a hazy love triangle.