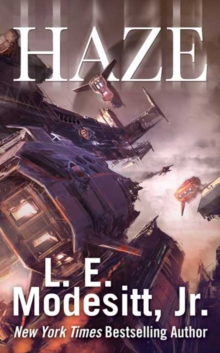 Description
What lies beneath the millions of orbiting nanotech satellites that shroud the world called HAZE?
Major Keir Roget's mission is to make planetfall in secret, find out, and report back to his superiors in the Federation, the Chinese-dominated government that rules Earth and the colonized planets.
For all his effectiveness as a security agent, Roget is troubled by memories of an earlier mission.
When he was assigned to the Noram backcountry town of St.
George, he not only discovered that the culture was neither as backward nor harmless as his superiors believed, but he barely emerged with his sanity whole.
Now, scouting Haze, he finds a culture seemingly familiar, yet frighteningly alien, with hints of a technology far superior to that of the Federation.
Yet he is not certain how much of what he sees is real - or how to convey a danger he cannot even prove to his superiors, if he can escape Haze.
Information
Format: Paperback
Pages: 352 pages
Publisher: St Martin's Press
Publication Date: 03/05/2010
Category: Science fiction
ISBN: 9780765362902
Free Home Delivery
on all orders
Pick up orders
from local bookshops