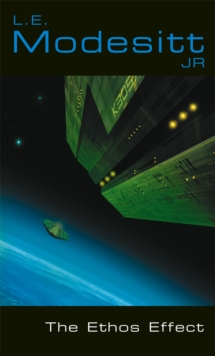 The Ethos Effect : A Novel
Paperback
Description
Van C. Albert is a commander in the Republic Space Force of Taran.
His bravery led to the defeat of a larger enemy ship but caused the inadvertent destruction of a civilian liner.
Although his name was cleared, he now seems doomed to a life of backwater postings.
He can only watch as a simmering cold war erupts into a fierce interstellar war, fuelled by the pull of religious fanaticism, economic and political rivalry.
Van is seriously wounded on assignment, and wakes from a coma to find that he has been decorated and summarily retired from military service.
Desperate to escape boredom, he jumps at the chance to fly a starship for the Integrated Information Systems foundation.
Seemingly harmless, the IIS's influence is far reaching and Van soon finds himself at the centre of the action, a key player in a war which will shake all human worlds.
Information
Format: Paperback
Pages: 592 pages
Publisher: Little, Brown Book Group
Publication Date: 02/12/2004
Category: Science fiction
ISBN: 9781841493220
Free Home Delivery
on all orders
Pick up orders
from local bookshops
Reviews
Showing 1 - 1 of 1 reviews.
Review by Noisy
16/06/2015
I found this book to be hollow. Modesitt is trying to make big statements about a grand theme (ethics, in case the title didn't make it plain), but isn't a big enough writer to pull it off. Nice enough story, but too many words, and - while ethics is a tough nut to crack - a sledgehammer isn't the right approach. Plucky officer in the space navy rescues his ship from certain doom (having previously been through a perilous encounter), and then just happens to avert another cataclysmic event for which he doesn't get the reward he might expect. Thereafter he lands a plum job, and gets to whizz about the galaxy righting wrongs. Of course, all the events he's tied up in are part of bigger machinations, and so his involvement in galactic affairs becomes pivotal. Lots of planet-hopping and a cast of characters that are limited enough that you can keep track of who's who are interwoven with some spiffing technology that seems to have changed society remarkably little for all that it offers. Pretty standard space opera fare, but it's just the setting for the exploration of this ethics theme. Hmmm, where have I seen a thick book where galaxy-spanning action has a number of interjections from an important historical figure spouting off some platitudes about a key theme? Ah yes, it was <i>Dune</i>. Well, this book is to <i>Dune</i> as Lake Windermere is to the Atlantic Ocean. Ethics is a big, meaty subject, and if you are going to spend a few chapters trying to make some philosophical points about ethics, then you'd better be a damn fine writer and treat it with some circumspection. Modesitt fails on the first count (or perhaps it's the editing that lets him down, and allows him to waffle on when a few cuts here and there would make things tauter) and on the second he goes in with all guns blazing. (I had the same criticism about the writing in <i>Archform: Beauty</i>, where I put the problem down to editing as well.) So, it's a good story, let down by slack writing (or editing) and by the fact that the writer just isn't up to the theme that is being explored. I wouldn't recommend it, but then I wouldn't counsel against it if someone wants a book about a hero who zips around space playing politics with a fancy spaceship (and having a few nightmares as he struggles with all the bad things that have happened to him - ahhh, poor boy).