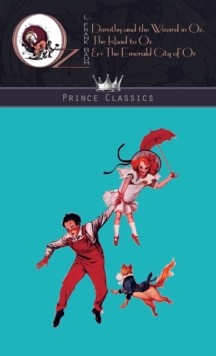 Dorothy and the Wizard in Oz, The Road to Oz & The Emerald City of Oz
Hardback
Description
A California earthquake sends Dorothy Gale and her new friends--Zeb the farm boy, Jim the cab-horse, and Eureka the mischievous kitten--tumbling through a crack in the ground. Deep beneath the earth, Dorothy is reunited with her old friend the Wizard of Oz and his troupe of nine tiny piglets.
Together, Dorothy, the Wizard, and their friends travel through many fantastic lands, where they encounter the Mangaboos, people growing like vegetables in the ground; cross the Valley of Voe, where dama-fruit has turned everyone invisible; and are captured by mysterious flying Gargoyles. At last, the intrepid travelers reach Oz, where they have many unforgettable encounters with such favorites as the Scarecrow and the Tin Woodman, the Cowardly Lion and the Hungry Tiger, Princess Ozma and the wooden Sawhorse.
The Road to Oz: In Which Is Related How Dorothy Gale of Kansas, The Shaggy Man, Button Bright, and Polychrome the Rainbow's Daughter Met on an Enchanted Road and Followed it All the Way to the Marvelous Land of Oz. is the fifth of L. Frank Baum's Land of Oz books. It was originally published on July 10, 1909 and documents the adventures of Dorothy Gale's fourth visit to the Land of Oz.
The book was dedicated to Joslyn Stanton Baum, the author's first grandson, the child of Baum's eldest son Frank Joslyn Baum.
The Emerald City of Oz is the sixth of L. Frank Baum's fourteen Land of Oz books. It was also adapted into a Canadian animated film in 1987. Originally published on July 20, 1910, it is the story of Dorothy Gale and her Uncle Henry and Aunt Em coming to live in Oz permanently. While they are toured through the Quadling Country, the Nome King is assembling allies for an invasion of Oz. This is the first time in the Oz series that Baum made use of double plots for one of the books.
Baum had intended to cease writing Oz stories with this book, but financial pressures prompted him to write and publish The Patchwork Girl of Oz, with seven other Oz books to follow.
The book was dedicated to "Her Royal Highness Cynthia II of Syracuse" — actually the daughter (born in the previous year, 1909) of the author's younger brother, Henry Clay "Harry" Baum.
Information
Format: Hardback
Pages: 480 pages
Publisher: Prince Classics
Publication Date: 28/07/2019
Category: Classic fiction (pre c 1945)
ISBN: 9789389414318
Other Formats
Paperback / softback from £9.99
Hardback from £14.99
Paperback from £20.99
Free Home Delivery
on all orders
Pick up orders
from local bookshops