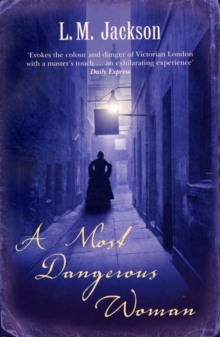 A Most Dangerous Woman : (Sarah Tanner 1)
Paperback
Description
'It was said that she had the good manners of a respectable upper servant but was far too young to have been pensioned; that she spoke as if she had received and education, but knew the costers' slang as if she were born-and-bred to it; and that she not only had no husband - which was a commonplace on Leather Lane - but seemed never to have possessed one...' When the mysterious Sarah Tanner opens her Dining and Coffee Rooms on the corner of Leather Lane and Liquorpond Street, her arrival amongst the poor market-traders causes something of a stir.
Few doubt that she has 'a past'; no-one could have predicted how it will return to haunt her...When an old friend is brutally murdered, Sarah Tanner is the only witness.
Unable to turn to the police, she finds herself drawn back into the dark underworld of the Victorian metropolis...Relying on her wits, and trading on her past, Sarah Tanner risks her own life on a desperate quest for justice and vengeance.
Information
Format: Paperback
Pages: 368 pages
Publisher: Cornerstone
Publication Date: 07/02/2008
Category: Crime & mystery
ISBN: 9780099498391
Free Home Delivery
on all orders
Pick up orders
from local bookshops
Reviews
Showing 1 - 1 of 1 reviews.
Review by AdonisGuilfoyle
16/06/2015
A standard amateur detective murder mystery, of the 'I must avenge the death of someone with whom I have a vague personal connection!' ilk. Sarah Tanner, a woman of dubious morals who has recently made good as the owner of a coffee shop, has all the credentials for solving a murky crime in a back alley - background, training, connections - but little substance to hold the reader. I found her a little contrived and not very convincing - a woman of 'independent means' accepted by the working class and local ne'er-do-wells, yet who could pass as an educated, 'respectable' lady when required, calling on the service of a gentleman friend to gain entry into polite society. The plot is intriguing, but there are perhaps one too many twists and turns, which come thick and fast in the final chapters, for a satisfying conclusion - one revelation is shocking, three or four in quick succession cancel each other out. And Sarah's clues were suspiciously coincidental - overheard conversations proving to be relevant, adverts in old newspapers suddenly springing to mind (and hand), witnesses and accomplices readily divulging information - stock-in-trade for the detective genre, but still a test for the reader's suspension of disbelief!Finally, there is a potentially destructive drinking game to be devised out of this, and other historical novels - a shot for every time Jackson uses the slang word 'ma'am' would have everyone under the table by chapter five! I'm not even sure it's historically accurate - surely 'madam' would have been more appropriate, particularly amongst the middle and upper classes? 'Ma'am' sounds like an American term, or how to address the Queen! The semi-colon is also wheeled out far too often; breaking up sentences where commas would suffice (not recommended for the 'Dangerous Woman' drinking game!)An average novel - evocative descriptions of Victorian London show up a weak protagonist who could have done with more of a backstory.
Also in the Sarah Tanner series