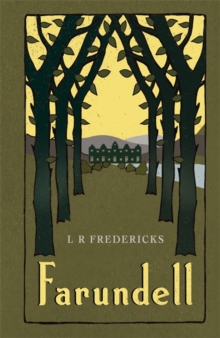 Description
FARUNDELL is a story of magical awakening as a young man searches for meaning in the aftermath of the First World War, a young girl comes of age and an old man journeys through memory to death.
There's an enigmatic book, an erotic obsession, magic both black and white, a ghost who's not a ghost, a murder that's not a murder, a treasure that's not a treasure.
It's about love, loss and longing; language, imagination and the nature of reality. In the golden summer of 1924 Paul Asher, still shattered by the trauma of the Western Front, comes to Farundell, an idyllic country house set deep in the Oxfordshire countryside. There, he falls under the spell of the rich and eccentric Damory family: the celebrated Amazon explorer Perceval, Lord Damory, now blind and dying, whose story echoes Paul's own strange dreams, brilliant thirteen-year-old Alice, on the cusp of adulthood and, like Paul, a seeker of knowledge and, most fatefully, the wild and beautiful Sylvie, with whom he falls passionately in love. Before summer's end, there will be tragedy, comedy, resolution and, for Paul, a revelation that will change his life forever.A stunningly original debut novel, Farundell is literary fiction with a metaphysical twist. Although complete in itself, it is the first in a linked series of novels about these people, places and themes.
Information
Format: Hardback
Pages: 416 pages
Publisher: Hodder & Stoughton General Division
Publication Date: 19/08/2010
Category: Historical fiction
ISBN: 9781848543287
Free Home Delivery
on all orders
Pick up orders
from local bookshops
Reviews
Showing 1 - 1 of 1 reviews.
Review by gaskella
16/06/2015
I was immediately drawn to the cover of this book, and indeed the blurb promises much too…"There's an enigmatic book, an erotic obsession, magic both black and white, a ghost who's not a ghost, a murder that's not a murder, a treasure that's not a treasure."Who wouldn't be tempted by that. The blurb also mentions Brideshead Revisited, and there are superficial similarities – the book is set in an ancestral pile and features an eccentric family into which an outsider is invited, but that's where the parallels end really. The mystery of it made me hope for something akin to Lindsay Clarke's wonderful novel The Chymical Wedding which delves deep into alchemy and the hermetic tradition, a book I must re-read soon – but it wasn't as profound as that novel. It was, however, an enjoyable debut, and I gather it is to be the first in a series featuring the characters within.Let me tell you a little about the story… Set in 1924, Paul Asher is at a loss what to do after his wartime experiences, he is still somewhat shell-shocked and estranged from his father. He accepts an invitation to Farundell from a friend to help the renowned Amazon explorer Percy Damory, now old and blind, to write his memoirs. There he meets the eccentric Damory family – a rather Bohemian clan. Of the Damory children, teenager Alice is the most interesting at the start. She is always curious and wants to be grown up.Paul starts off well at the house – he feels at home. Then one day he sees the family ghost and this will be the start of surreal experiences to come. It turns out that several of the family regularly see Francis the ancestral ghost and have out of body experiences (they call it their 'moon-bodies') communing with him. Then Percy's grand-daughter Sylvie arrives down from London and Paul instantly and totally falls in passionate love. Sylvie, gratifyingly for Paul, consents to fall totally in love lust. They can't keep their relationship secret, indeed Sylvie's parents and grandfather thoroughly approve, and there's soon a lot of sex going on. At the same time, Paul, having had his eyes opened to the ghost, begins to use his moon-body too.Interspersed with this are Percy's memories of his explorations and encounters in the jungle with fearful tribes and potent drugs and associated out of body experiences; the precocious Alice seeking answers; and a mysterious book that Paul becomes obsessed by – it is reputed to hold the secrets of the Farundell treasure that great-great-grandfather Francis had brought back to the estate. The ghost Francis isn't telling though, he continues to play mind-games with them; all except Aunt Theo who has chosen not to use her moon-body – hinting of the dangers to come.There's a lot in this book, although at times it can be quite rambling and at the start all the family characters can be rather confusing. There are a lot of different sub-plots going on which I haven't mentioned above. I did need respite from Paul and Sylvie's rampant rutting though, so they were perhaps necessary after all!I did like the setting, the grand country house is very alluring with its secret passageways and wonderful views. The grounds complete with huge lake, island, chapel and Greco/Egyptian temples, and not forgetting its own model village, feels like a theme park you need never leave. The period is also potent; people are just starting to find themselves again after the Great War, and letting go one by one with abandon.I couldn't decide whether this book was wanting to be a family drama or a surreal fantasy. I though it ended up trying to be both and not quite succeeding. There was much to like and I enjoyed it, but was left slightly disappointed. I would however, probably read more by this debut author.
Also by L. R. Fredericks