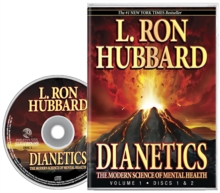 Dianetics : The Modern Science of Mental Health
CD-Audio
Description
Albert Einstein said: We are using only 10% of our mental potential.
Dianetics tells you how you can free a significantly larger part of your potential.
Self confidence, harmonic relationships and a positive attitude towards life can absolutely be achieved.
It makes Positive Thinking a reality. You can achieve your goals with more certainty if you are able to find the cause of upsets, unwanted reactions or emotions.
The human mind is not a mysterious puzzle - impossible to resolve.
Read and work with Dianetics, see how it works for you and make up your own mind.
The book gives a clear description of what is happening in the mind and explains a practical method, enabling you to explore your own subconscious, and rid yourself of what holds you down, resulting in increased IQ and well-being.
Watching the DVD called 'How to Use Dianetics' along with the book is recommended to have a visual illustration of the concepts and the practical application.
Other Formats
Paperback / softback from £11.55
Hardback from £17.25
Free Home Delivery
on all orders
Pick up orders
from local bookshops