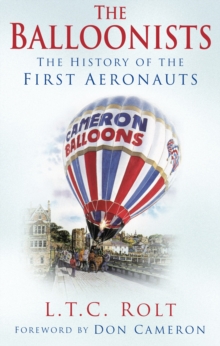 The Balloonists : The History of the First Aeronauts
Paperback / softback
Description
In 1783 the Montgolfier brothers made history with the first hot-air balloon flight, and so began the era of flight and man's love affair with the skies.
In this book, LTC Rolt (the pioneer of industrial history) takes us on a journey through the history of ballooning. sprinkled with lively extracts from journals, and drawing from contemporary accounts, The Balloonists follows the exploits of these early pioneers of flight: Rozier, Lunardi, Blanchard and Samuel King, who constructed possibly the largest balloon ever made.
This complete history of balloons and the intrepid men and women who flew in them recounts stories of the first flights to 1903, when the Wright Brothers heavier-than-air flight at Kittyhawk changed the history of aviation forever.
This book will delight everyone who has enjoyed watching balloons float tranquilly through the skies on a summer's evening.
Information
Format: Paperback / softback
Pages: 272 pages
Publisher: The History Press Ltd
Publication Date: 21/06/2006
Category: History: specific events & topics
ISBN: 9780750942027