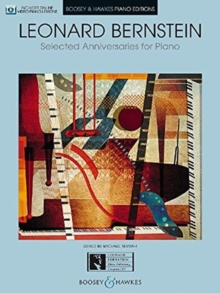 SELECTED ANNIVERSARIES
Paperback
Description
Most of Bernsteins compositions for solo piano took the form of the Anniversary.
Bernstein is not the first composer to have written a short homage to commemorate a special date he perhaps took his inspiration from Virgil Thompson 1896-1989 and that composers Portraits.
Bernstein wrote a total of 29 Anniversaries spanning virtually the entirety of his creative life, from the early 1940s until the late 1980s.
Each of the Anniversaries were written in honor of someone in Bernsteins life mentors, friends, students, teachers.
Except for those cited as In Memoriam, the Anniversaries were birthday presents, and thus, the
Information
Format: Paperback
Pages: 48 pages
Publisher: SCHOTT & CO
Publication Date: 20/08/2018
ISBN: 9781540024404