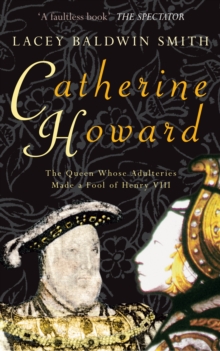 Catherine Howard : The Queen Whose Adulteries Made a Fool of Henry VIII
Paperback / softback
Description
A biography of Henry VIII's fifth wife, beheaded for playing Henry at his own game - adultery.
At seven o'clock on the morning of 13 February 1542, Catherine Howard stepped out into the cold of the great courtyard of the Tower of London.
Slowly she was escorted across the yard and carefully helped up the steps of the wooden scaffold.
Only a small group of sightseers had gathered to watch the death of a queen; there was no weeping, no remorse, only chilly curiosity.
The axe rose and fell, a life ceased, an episode came to an end.
The life and death of Catherine was truly a Tudor tragedy. A mere teenager, the vivacious and flirty Catherine Howard was an unsuitable bride for the elderly and fat Henry VIII.
Like most of Henry's wives she had come to his attention at court whilst lady-in-waiting to his fourth wife of only a few months, Anne of Cleves.
Henry was soon besotted and came to adore Catherine, his 'very jewel of womanhood'.
His head already turned by the 19 year old, Henry never consummated his marriage to Anne, he divorced her and married for the fifth time on 28 July 1540. Lacey Baldwin Smith, one of the finest historians of the Tudor age, narrates the rise and fall of the most tragic of Henry's queens, the woman who dared to cuckold the king of England.
Information
Format: Paperback / softback
Pages: 288 pages, 25 Illustrations, unspecified
Publisher: Amberley Publishing
Publication Date: 01/02/2010
ISBN: 9781848685215