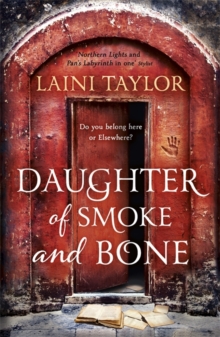 Daughter of Smoke and Bone : The Sunday Times Bestseller. Daughter of Smoke and Bone Trilogy Book 1
Paperback
Description
DAUGHTER OF SMOKE AND BONE is a book unbounded by genre but located at a magical crossroads where THE PASSAGE meets PHILIP PULLMAN and TWILIGHT meets PAN'S LABYRINTH.Errand requiring immediate attention.
Come.The note was on vellum, pierced by the talons of the almost-crow that delivered it.
Karou read the message. 'He never says please', she sighed, but she gathered up her things.
When Brimstone called, she always came. In general, Karou has managed to keep her two lives in balance.
On the one hand, she's a seventeen-year-old art student in Prague; on the other, errand-girl to a monstrous creature who is the closest thing she has to family.
Raised half in our world, half in 'Elsewhere', she has never understood Brimstone's dark work - buying teeth from hunters and murderers - nor how she came into his keeping.
She is a secret even to herself, plagued by the sensation that she isn't whole.Now the doors to Elsewhere are closing, and Karou must choose between the safety of her human life and the dangers of a war-ravaged world that may hold the answers she has always sought.'Remarkable and beautifully written . . . The opening volume of a truly original trilogy.' GUARDIAN
Information
Format: Paperback
Pages: 448 pages, n/a
Publisher: Hodder & Stoughton General Division
Publication Date: 26/06/2012
Category: Fantasy
ISBN: 9781444722659
Free Home Delivery
on all orders
Pick up orders
from local bookshops
Reviews
Showing 1 - 3 of 3 reviews.
Review by dreamybanana
16/06/2015
It's brilliant. The writer is talented. Her imagination is both with every word she selects and the entire plot. If you're an urban fantasy reader, you can't really ask for more.
Review by Staciesnape
16/06/2015
I only heard about this book about a month ago. I was attracted to the cover at first and the fact that the average rating on good reads was so high. I'll be honest though, that also put me off. Before I picked this masterpiece up I had just finished reading Trylle Trilogy. That had also got a lot of great reviews and I heard nothing but good things. So I bought the whole trilogy only to be massively disappointed.I thought this was going to be just another fast paced YA fantasy story with a love story that was rushed and unrealistic. I'm so happy to say I was pleasantly surprised.The books grips you from the very start with Karou and her borderline stalker ex Kaz. Its from 3 different point of views Karou, Akiva the handsome mysterious troubled boy and Zuzana who is Karou's best friend. Because of this you get a feel for more than just one character, you connect more with the book and it draws you in and doesn't let go till the last page when your still begging for more.Karou was brought up by Brimstone, a wishmonger, and her earliest memory was of him. She has no idea who she is or where she comes from and secretive Brimstone isn't given anything away. Even though Brimstone is secretive, scary and sometimes comes across as nothing more than angry, I love him. He's character is very interesting and as the story of how he came to care for Karou unfolds you find yourself sad for him because of the things he has seen, done or gave up.Akiva... where to start? haha. He's beauty is described as something very fitting for what he is, but it runs deeper than looks. He's just a very beautiful person and once he lets go of the sense of duty you see it. When he first meets Karou he knows something is different about her. That maybe he shouldn't be feeling the way he does. Once the love they both feel for each other is explained everything fits into place. Everything about the book fits into place. Everything was explained at the right time, it wasn't rushed, it was just perfect!.My advice for you is don't read too many reviews before picking the book up. You'll get your expectations up and even though I am confident they will be met, you could be different. Yes its another YA book about angels and demons and star crossed lovers but believe me when I say its nothing like the rest. Its beautifully written and the authors imagination is just mind blowing. Be ready to get hooked and lost in a world that you'll never want to leave.
Review by Violetthedwarf
16/06/2015
I think I'd have liked it more without the romance.<br/><br/>I am becoming almost anti-romance now, because I've read so much unlikely, unrealistic, unhealthy romance in YA fantasy. In this, the romance almost spoiled the actual story for me.<br/>
Also in the Daughter of Smoke and Bone Trilogy series | View all