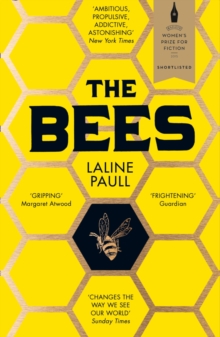 Description
Shortlisted for the Baileys Women's Prize for Fiction 2015 Longlisted for the Desmond Elliott Prize for New Fiction 2015 Enter a whole new world, in this thrilling debut novel set entirely within a beehive. Born into the lowest class of her society, Flora 717 is a sanitation bee, only fit to clean her orchard hive.
Living to accept, obey and serve, she is prepared to sacrifice everything for her beloved holy mother, the Queen. But Flora is not like other bees. Despite her ugliness she has talents that are not typical of her kin.
While mutant bees are usually instantly destroyed, Flora is removed from sanitation duty and is allowed to feed the newborns, before becoming a forager, collecting pollen on the wing.
She also finds her way into the Queen's inner sanctum, where she discovers secrets both sublime and ominous. But enemies are everywhere, from the fearsome fertility police to the high priestesses who jealously guard the Hive Mind. And when Flora breaks the most sacred law of all her instinct to serve is overshadowed by an even deeper desire, a fierce love that will lead to the unthinkable . . . Laline Paull's chilling yet ultimately triumphant novel creates a luminous world both alien and uncannily familiar.
Thrilling and imaginative, `The Bees' is the story of a heroine who, in the face of an increasingly desperate struggle for survival, changes her destiny and her world.
Information
Format: Paperback
Pages: 352 pages
Publisher: HarperCollins Publishers
Publication Date: 14/12/2014
ISBN: 9780007557745
Other Formats
Hardback from £11.79
EPUB from £4.49
eAudiobook MP3 from £10.39
Free Home Delivery
on all orders
Pick up orders
from local bookshops
Reviews
Showing 1 - 5 of 5 reviews.
Review by cygnoir
16/06/2015
I knew from the first chapter that I would be desperately sad to finish this book, and I am. It is a gorgeous, thoughtful story with compelling characters and an emotional, satisfying conclusion -- and Paull did this all not with humans but with bees. Brilliant work.
Review by missizicks
16/06/2015
An apian Watership Down mixed with elements of 1984, Shakespeare and The Handmaid's Tale, The Bees is certainly a ripping yarn. It went on slightly too long for me and had an overblown ending that made me think of Alien vs Predator. I appreciated the research that had gone into understanding bee society and biology. For the most part I didn't mind the anthropomorphising of the bees, but occasionally I found it cheesy. There are exciting moments as the heroine of the tale goes against the rules of her society and becomes a freedom fighter in the face of totalitarian rule, but around the 75% mark, I began to feel a little bored and wanted it to end. While I'm certain that the final showdown is based on fact, the anthropomorphising made it slightly ridiculous, and the epilogue was far too twee for my taste.
Review by brokenangelkisses
27/08/2015
I enjoy reading dystopian fiction and I like bees, as long as they stay next to the flowers and away from my children, but I'll be honest: I think it was the brilliant yellow cover that first attracted my attention.What's it about?Flora 717 is a worker bee born into the lowest kin in her totalitarian hive society. Focused almost entirely on her need to accept, serve, and obey the Queen and her priestesses, Flora gradually takes on different roles within what is otherwise a very strictly segregated community and, in so doing, begins to reveal the secrets at the heart of the hive. Then she commits the greatest sin possible in her deeply religious society; can she survive it? Can her hive?What's it like?Fascinating, if slightly perplexing at times. I spent much of the novel thinking "Do bees really DO that?" and a slightly ridiculous period of time after reading the final pages Googling to find out. The short answer is, mostly, yes. For instance, bees really do dance to communicate to other bees where they have located pollen and honey. The bees within the hive exist in a deeply rigid theocracy, and the initial chapters establish the way this society works as Flora hatches and is inducted into her designated role via an 'experiment'.From the outset, I found the storytelling convincing as I followed Flora's progress. There are a few odd moments, such as bees eating 'bread' in a 'canteen', when the humanising of the bees risks undermining the reality of the mileau, but on the whole this is an interestingly realised tale of wasp attacks, religious purges, internal massacres and the joy of flight, to name just a few elements.Is it really a dystopia?Some commentators have made comparisons with Margaret Atwood's 'The Handmaid's Tale'; others have pointed out that this tale is really about bees being bees and seem to have felt cheated into reading the novel by a comparison they subsequently deemed invalid. While the bees are definitely "being bees", throughout the novel Paull draws us into a dark world full of threatening sage priestesses who are concealing brutal secrets at the centre of the hive. This is a strictly hierarchical society in which the most powerful deliberately deprive the least powerful of knowledge in order to sustain the status quo. Traitors risk violent execution and order is partly sustained through the repetition of simple mantras.Creating a particular type of novel is, obviously, not just a matter of ticking certain boxes, but this novel certainly contains many features typical of dystopian fiction; the whole work feels politically charged and the society depicted is clearly oppressive. It feels dystopian to me and while you certainly could read this as simply a fascinating tale about bees being bees, I defy you not to read something more into the shocking scene when the sisters turn upon the remaining drones. Carefully developed anthropomorphism like this encourages readers to make connections to their own world, and Paull herself says: 'the most constant comment I've had from readers is "I'll never look at bee[s] the same way again."'Final thoughtsAs the seasons shift, the rhythms of the hive alter and a year passes by. Flora gradually changes and becomes almost invincible. She survives wasp attacks, cunning spiders, strange telephone poles, devious sisters and the strange machinations of her own body. In short, as is typical in this kind of fiction, she ceases to be an 'everyman' or 'everywoman' and becomes a heroine, daringly subverting established norms in an attempt to promote her own interests above those of the state. This makes for exciting fiction, but. BUT.WHY is Flora 717 alone able to transcend supposedly "untranscendable" boundaries? And yes, obviously, she has to in order to create an exciting plot...but that's Paull's motivation, and is not relevant to the logic of the book's inner world. There are hints that she's born of a slightly different strain of bee, but I didn't find this sufficient to make her into the super-bee she becomes.Perhaps this is a minor quibble, given how quickly I read the book and how thoroughly I enjoyed reading it, but her situation reminded me a little of those action films starring Bruce Willis where the bad guys and good guys always get up and stagger on, even if you drop a car on them. While both novels and films require us to suspend our disbelief, too much suspense does invite collapse.Speaking of which...the novel's brief prologue and epilogue remind readers of the ways humans interact with bees and seem designed to encourage us to feel a greater sense of guardianship, particularly in light of modern fears about colony collapse disorder.Overall, this is a fascinating read about a rather incredible insect that has somehow so far avoided becoming the star of a Disney film. Well worth reading. And when you're done, you might feel inspired to watch the next bee you see rather more closely.
Review by aadyer
27/08/2015
Undoubtably, extremely well researched, with a great in depth series of appendices in the back which also makes for interesting reading. Whilst a novel concept with much to applaud the background & development of the story, the story itself to me lacked pace, seemed repetitive, and I strangely found Flora, the main protagonist difficult to sympathise with. Enjoyable but I felt over long. Not one for me, for a re read. Will likely be of interest to all you budding apiarists out there.
Review by TPauSilver
10/11/2015
The Bees is the story of Flora 717, a bee. In a hive. Who is, for some reason, more super special-awesome than the other bees which grants her the ability to move through the hive and try a variety of roles, exposing the reader to a cross-section of bee society. The writing, when dealing with the physical, is generally very good as an attempt to write the other. The physical details of smell as a way of communicating and navigating are very good. The emotional reality of the character, though, felt very human. Secrecy, ambition, desire, these are all very human things. But that can work. Flora is kind of a lost character, very human in that she's unsure of her place and some of the things that go on around her but is basically just trying to get by and look after her and her own. I really enjoyed the start of this book where Flora was experiencing the different parts of the hive and there are a lot of good adventure pieces within it where Flora had to work her way out of various situations. I liked the dance hall and how dancing was interpreted and the idea that someone can pass you knowledge though scent, like the gift of knowledge that Lily 500 gave to Flora. I also like the males as demanding, pig-headed shits and how that eventually works out for them. Some of the hive mind stuff is really well done too. Now, to my eyes, there are two reasons to write a book like this. The first is to relay knowledge, the second is to draw a parallel to human society. I'm not 100% up in my bee knowledge but I suspect Paull isn't either. For example, it's highly unlikely that mobile phone towers cause bees to die (bees can detect a phone signal but there's little evidence beyond that). Add that to the anthropomorphized inner world and it doesn't sit right as information. Which leaves social commentary, but as that it falls short for me in many ways. I kind of liked the start, despite the super-special-awesomness of the protagonist. It set up a world ruled from the top by a queen isolated by those who seek to use her power and sets up a dynamic between different types of bee within the hive with a hint of mystery and antagonism. It then proceeds to do very little with this setup through a portion of the middle chunk of the book, only picking the threads up again right at the end. I felt this was a let-down to a book that started very well. And it lets down the social commentary as what could have developed into a story about power and deceit turns into a story about...how we should all largely ignore society issues and go look at flowers them we might accidentally birth someone powerful? I mean, maybe there's a story there about effecting social change but Flora doesn't actually do anything voluntarily other than not let her child die. She doesn't seek power or change but, rather, works to prop-up the monarchy that put her and her kin in the position of sanitation workers in the first place? So I'm not sure what kind of social commentary I'm meant to take away other then maybe 'monarchies are great'? The other thing I felt the book lacked was strong relationships between Flora and anyone else. She has a kind of slightly-less-hatred for Sir Linden and she likes Lily 500 but that doesn't last long but towards the end when she's meant to be bonding with her kin she still clearly sees herself as above them, directing them, them serving her, and she didn't have any special friends among them or even one she refers to by name.