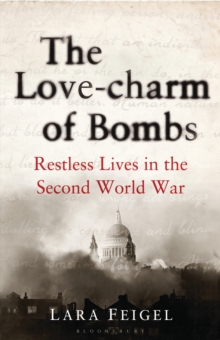 The Love-charm of Bombs : Restless Lives in the Second World War
Hardback
Description
'The nightly routine of sirens, barrage, the probing raider, the unmistakable engine ("Where are you? Where are you? Where are you?"), the bomb-bursts moving nearer and then moving away, hold one like a love-charm' Graham GreeneWhen the first bombs fell on London in August 1940, the city was transformed overnight into a battlefront.
For most Londoners, the sirens, guns, planes and bombs heralded gruelling nights of sleeplessness, fear and loss.
But for Graham Greene and some of his contemporaries, this was a bizarrely euphoric time when London became the setting for intense love affairs and surreal beauty.
At the height of the Blitz, Greene described the bomb-bursts as holding one 'like a love-charm'.
As the sky whistled and the ground shook, nerves were tested, loyalties examined and infidelities begun. The Love-charm of Bombs is a powerful wartime chronicle told through the eyes of five prominent writers: Elizabeth Bowen, Graham Greene, Rose Macaulay, Hilde Spiel and Henry Yorke (writing as Henry Green).
Volunteering as ambulance drivers, fire-fighters and ARP wardens, these were the successors to the soldier poets of the First World War and their story has never been told.
Now, opening with a meticulous evocation of a single night in September 1940, Lara Feigel brilliantly and beautifully interweaves letters, diaries and fiction with official civil defence records to chart the history of a burning world in wartime London and post-war Vienna and Berlin.
She reveals the haunting, ecstatic, often wrenching stories that triumphed amid the mess of a war-torn world.
Information
Format: Hardback
Pages: 528 pages, illustrations
Publisher: Bloomsbury Publishing PLC
Publication Date: 01/01/2013
Category: Biography: literary
ISBN: 9781408830444
Free Home Delivery
on all orders
Pick up orders
from local bookshops
Reviews
Showing 1 - 2 of 2 reviews.
Review by FleurinherWorld
16/06/2015
I was smitten with 'The Love-charm of Bombs' from the very first time I read about it. The prospect of seeing London in the Second World War through the eyes of five remarkable writers – Elizabeth Bowen, Graham Greene, Rose Macaulay, Hilde Spiel and Henry Yorke (who wrote under the name Henry Green) – was simply irresistible. And I was pulled in from the very first page, into the Blitz. I found Rose Macaulay, who had already lived through the Great War, driving an ambulance; Elizabeth Bowen and Graham Greene serving as ARP wardens – making sure that the blackout was maintained; and Henry Yorke in a team of auxiliary fireman. The picture that is painted – of dark skies, empty streets, damaged buildings – of community, fear, exhilaration, uncertainly – is extraordinarily vivid. For a moment I wasn't sure that this was going to work – the telling of stories of real people, constructed from their letters and diaries, from the writings of their contemporaries, and from historical records. It felt strange to read that Elizabeth (Bowen) walked out on to her balcony and stretched, but I held on and soon I was caught up, in a story that reads like a novel, that sometimes spins off into history, into biography, into literary analysis. Four of the principals moved in the same literary circles – Virginia Woolf, J B Priestly, Rosamund Lehmann, Evelyn Waugh and May Sarton are among those who mix and correspond with them – but Hilde Spiegel lived a very different life. She was a wife, a mother, exiled from Austria to South London, trying to establish herself in a new world, trying to find just a little time for her writing. Her story, of which I had known nothing, was fascinating and a wonderful counterpoint to the stories of the other four. In an uncertain world, passions ran high. Graham Greene and Henry Yorke had both evacuated their wives and children to the country and both behaved as single men might, taking up with other women. Their stories seemed similar at first, but that only highlighted how different they were as they moved in different directions and revealed different attitudes. Elizabeth Bowen met Canadian diplomat Charles Ritchie who would be the great love of her life, though she remained married and he would marry another. But Rose Macaulay's story was sadder. She lost her sister and her lover to cancer, and she lost her home, her letters, her books to a German bomb. My heart broke for her. Lara Fiegel wove their stories together beautifully. She wisely kept her style simple, focusing on the stories and the facts, her writing had exactly the right momentum, and the perspective was wonderful. I can't quite explain it, but she brought me close those real lives without ever making me feel I was intruding. But even better was the writing about the books that were written during the war or inspired by it. Elizabeth Bowen's feelings about her relationship with Charles Ritchie are echoed in 'The Heat of the Day' and 'A World of Love'; Henry Yorke's experiences in the fire service inform 'Caught'; 'The End of the Affair' has some – but not all – of its roots in Graham Greene's wartime relationships; and Rose Macaulay walked through the ruins that she would not be able to write about until many years later, in 'The World My Wilderness.' Lara Feigel's love, curiosity and knowledge shine, leaving me eager to read more by and about all those she writes about, and applauding what she has accomplished with this book. In the end the story moves beyond the War, looking at the consequences and the rest of the lives of the five principals. The War had changed their lives and the end of the War would change them again. There is so much here, so many fascinating details that it is impossible to pick out points to focus on. This is a book that I will go on thinking about, read again, and come back to when I pick up the books I've been reading about. But I need to shout about it now, because it's wonderful! 'The Love-charm of Bombs' has left me in awe of Elizabeth Bowen, drawn to Rose Macaulay, more interested in Henry Green and Graham Greene than I ever thought I'd be, and curious to read more about the life of Hilde Spiel. Time, I think, to read and re-read their work, and then come back to this book …
Review by annejacinta
16/06/2015
Ignore the clunky title, this is an excellent read. It tells the story of five writers' war experiences in London, focussing in great detail on the Blitz. Rose Macaulay was an ambulance driver, Elizabeth Bowen a Warden with the ARP, Henry Green a fireman, while Graham Greene worked for the Ministry of Information and Hilde Spiel lived as a refugee with her young family in Wimbledon.The strength of the book comes from the writing skills of these people. Lara Feigel makes brilliant use of extracts from their letters and diaries. More telling is her analysis of their contemporary work - she can clearly outline how they reworked their experiences into their novels. The repeated theme of all their writing is love, or relationships. Sometimes it seems love was everywhere, well, love and sex. It goes way beyond the simplistic "sex now for tomorrow we die " idea. Her work shows how love could be an obsessive part of life for some, a secret and a tragedy for others. Working continually in the chaotic dangerous conditions suspended normal living, superhuman efforts were being made by the participants and their emotions were intensified.At 500 pages and with the level of detailed study of the five writers, you become very involved with them. Lara Feigel is an outstanding author of nonfiction writing. Her book is a first class sociological and literary study of how humans endure war.