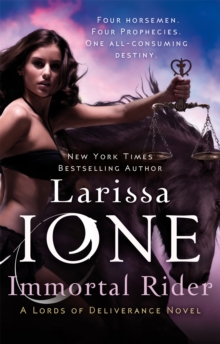 Immortal Rider : Number 2 in series
Paperback
Description
The prophecies were there but no one listened. Until now. They are the Lords of Deliverance and they have the power to usher in Doomsday . . . or prevent it.Sexy, powerful and immortal, Limos is on a crash course with destiny.
She's been marked as Satan's bride and her jealous fiance wants her all to himself.
The only way this Horseman can keep herself - and everyone else - safe is to keep her distance.
But not even Limos can save herself from the secrets she's kept . . . or resist the seductive allure of one very brave human.
Arik Wagner knows the saying 'love hurts' better than most, yet he never thought stealing a kiss from Limos would land him in Hell.
Literally. It takes all his military training to survive the demon torture, but once he's topside, Arik realises that the agony has just begun.
With the Apocalypse looming and Satan demanding his bride, will Arik and Limos surrender to the desire smouldering between them? Or will giving in to their passion unleash hell on earth?
Information
Format: Paperback
Pages: 448 pages
Publisher: Little, Brown Book Group
Publication Date: 29/11/2011
Category: Fantasy
ISBN: 9780749955472
Free Home Delivery
on all orders
Pick up orders
from local bookshops
Reviews
Showing 1 - 5 of 8 reviews.
Previous | Next
Review by MlleEhreen
16/06/2015
I was a huge fan of Larissa Ione's Demonica series, gobbled up the whole thing, so I don't know why I didn't keep her on autobuy when she switched to writing about the Four Horsemen of the Apocalypse. I guess I just didn't want to leave Underworld General behind; my affection for her was so tied up in the characters I knew and the world she'd built.<br/><br/>Which is why I felt doubly stupid when I realized that she's carried that whole world into the Horsemen series, expanding it and adding some fun new twists, and that my favorite characters are still around. Plenty of the Underworld General regulars have bit roles to play in IMMORTAL RIDER, while Shade and Kynan appear pretty frequently. <br/><br/>IMMORTAL RIDER pairs up Limos, the Horseman sometimes known as Famine, and Arik, a paranormal military/Aegis badass. Ione always does a good job of matching strong men and strong women. In this case, Limos' superstrength and battle skills are toned down a bit by her sorority girl persona (which had more than a whiff of Kresley Cole about it, if you ask me), while Arik's strength of character and straightforward pursuit of Limos make up for the fact that he's physically weaker than she is.<br/><br/>I liked how Limos embodies Famine as sexual hunger. She wears a chastity belt that keeps her in a constant state of want. I also liked how, as the Princess-of-Lies-to-be, her biggest internal struggle is about telling the truth…and, man, Limos has been piling her lies over some pretty ugly secrets.<br/><br/>Conceptually it's all really great. Plenty of action keeps the pages turning at a good clip, and the romance fits nicely into the overarching story of the coming apocalypse. I was really into the developing story of Thanatos and Regan; my biggest criticism of IMMORTAL RIDER would be that the real climax of the book involves a pretty crazy scene between Thanatos and Regan. I loved the scene, but it didn't involve either of the book's main characters. <br/><br/>I love the worldbuilding. I love that Ione has managed to make a bunch of interesting points about good and evil and play with Christian mythology without ever getting preachy or disrespectful. To be perfectly honest I don't think that IMMORTAL RIDER is the best book I've read of hers, but I'm back on the bandwagon. <br/>
Review by Capnrandm
16/06/2015
A brand of Paranormal Romance that is becoming more and more common, IMMORTAL RIDER melds over the top violence and lust to create a supernatural telanovela that teeters on the edge of apocalypse. Though this was my first book in this series, I've read a few of Larissa Ione's prior books in this world, so I wasn't completely confused by the names and supporting stories that flew by.<br/><br/>Though not a unique feel, I think IMMORTAL RIDER managed to tread the line that many recent PNR's have failed: dark without becoming offensive. There's plenty of drama and human frailty in IMMORTAL RIDER, but Ione never pushes things so far as to become a turn off. Even better, her darker characters hover between genuinely evil and redeemable... and that second guessing game opens up a whole new horizon for sequels.<br/><br/>I did get frustrated by Thanatos and Regan's subplot. I'm not a fan of the "if only they'd talked to each other" device, and though Arik and Limos definitely have hints of that in their story, they managed not to blow things too far out of proportion. Regan herself pointed out the "secret baby" plot device for their situation, and I'm on pins and needles to see if Ione can pull off a variation of such a classic device without falling prey to the classic blunders that go along with it.<br/><br/>Sexual Content: Explicit sex scenes, mentions of orgies.
Review by mlsimmons
16/06/2015
I love Larissa Ione's stories. The world is great and the characters are varied and interesting. I can't wait for Death's book.
Review by Lauren2013
16/06/2015
Immortal Rider
3.5 Stars

The romance and chemistry between Limos and Arik is an improvement on book #1 although there is still something missing in their connection perhaps due to the emphasis on lies and secret keeping; a trope that has put me off contemporary romance and it is out of place in PNR. Moreover, Limos and Arik are not exactly a power couple - he is pretty one-dimensional and nondescript and she is too self-absorbed to be a completely likable heroine.

The plot is also far fetched and disjointed. The descriptions of excruciating torture, rapid healing and death in large numbers is not only excessive and unrealistic (even for PNR) but also serve to desensitize the reader to the atrocities committed within the pages and to undermine the threat of the approaching apocalypse.

In addition, the subplots between Reaver & Havester and Thanatos & Regan, while better developed and more interesting than the primary storyline, tend to overshadow the search for Limos's agimortus - a supposedly significant plot point that takes back seat to all the secret keeping and angst.

As mentioned, the developments in the secondary relationships are the highlights of the book. Pestilence is a despicable villain and even though his redemption is obviously in the works, Ione may have to pull a rabbit out of the hat to make it believable.

Reaver and Harvester are another compelling "opposites attract" couple but once again, it is difficult to see how Ione will overcome the obstacles to their romance, particularly the fact that Harvester is almost as evil as Pestilence.

Finally, Thanatos and Regan are the most entrancing pair in the series. Yes, there is some controversy over their sexual encounter but to me it cannot be removed from the context of the Demonica world in which good and evil are not black and white but shades of gray nor can the mitigating circumstances and the issue of intent be ignored. Not only was Regan unaware of the nature of Than's seal or the fact that she had inadvertently drugged and restrained him but she had no intent to rape or humiliate him. Nevertheless, the consequences of Regan's actions make the inevitable HEA with Thanatos particularly intriguing and I look forward to seeing what happens next.
Review by msralways
16/06/2015
Loved Limos and Arik! The Demonica wolrd has a lot of details that makes the story much more interesting for us to read and immerse ourselves in. It is great to see so many things happening and what the main players involved are doing for their part in the whole plot. I ca't wait to see how this is going to end. Awesome!
Also in the Lords of Deliverance series | View all