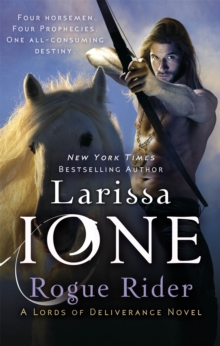 Rogue Rider : Number 4 in series
Paperback
Description
The prophecies were there but no one listened. Until now.They are the Lords of Deliverance and they have the power to ward off Doomsday . . . or let it ride.Jillian Cardiff came to this remote mountain town to forget the demon attack that almost killed her.
Instead, she rescues - and falls for - a gorgeous stranger who has no memory of anything other than his name.
Handsome, charming and protective, Reseph seems like the kind of man that Jillian can trust.
But with hints of a troubling history of his own, he's also the kind of man that can be very dangerous . . .Reseph may not know his background, or why he mysteriously appeared in Jillian's life, but he knows he wants to stay.
Yet when Jillian's neighbours are killed and demon hunters arrive on the scene, Reseph fears that he's putting Jillian in danger. And once it's revealed that Reseph is also Pestilence, the Horseman responsible for ravaging the world with death and destruction, he and Jillian must face the greatest challenge of all: can they forget the horrors of a chilling past to save the future they both desire?
Information
Format: Paperback
Pages: 432 pages
Publisher: Little, Brown Book Group
Publication Date: 01/11/2012
Category: Fantasy
ISBN: 9780749955571
Free Home Delivery
on all orders
Pick up orders
from local bookshops
Reviews
Showing 1 - 5 of 5 reviews.
Review by tivonut
16/06/2015
This was a great addition and somewhat of a wrap up though Reaver's story is definitely set up.<br/><br/>Out of the 4 books, I probably liked this the least because it was more a sedate story wrapping up all the 4 books and then a slow burn romance. A lot of the twisted of the story, I saw coming. One of the twisted, I've been waiting for since book 2. <br/><br/>I really liked Reseph and loved his character and his changes, each step of the way. He reminds me of Wraith in his uninhibited comments except Reseph's are almost all sexual and more friendly/playful. Jillian seems strong and is portrayed that way.
Review by Has_bookpusher
16/06/2015
Full Review to be posted soon:<br/><br/>Really enjoyed this installment and I liked how Larissa Ione managed to redeem Reseph's character. But overall I really enjoyed the romance between Reseph and Jillian, which was pretty fun and sexy!
Review by aoibhealfae
16/06/2015
As far as stories about "four horseman of hell" would go, I particularly inhale this series. Prior to this book, an unfortunate incident causes Reseph to become overwhelm by his demonic side, Pestilence, who are the epitome of evil. He launch a substatial demonic apocalypse around the world down to murder rape and destruction where ever he goes including his major campaign to break his brothers and sister's apocalypse seal. <br/><br/>In the previous book, Pestilence was resealed again in Reseph but now his memory as Reseph and Pestilence was blocked and he was left in the middle of nowhere only to be found by a young woman who was living in a secluded forest away from the civilization (where the apocalypse hit the worst). Jillian came close to lose her life after a demon attack that left her traumatized but finding a naked guy in the snow is not what she had in mind. <br/><br/>Interesting enough, I kept reminiscing season 5 and 6 Supernatural while reading this. Instead of the whole bromance happening, we get Jillian trying to rehab a broken guy who had to come to term to what he had done as Pestilence and his family hating him.<br/><br/>I am satisfied by this book and I'm glad that I had waited this long to read Reseph's story. The subsequent storyline was a pleasant surprise at the end. As a PNR/UF book, I think Miss Ione had done great with her Deliverance series than her demonica series. <br/><br/>Although it does carry some vibes from other UF/PNR book, I do find myself enjoying the Horsemans' books. A bit simple and rather unoriginal storyline similar to other amnesiac character romance, but it is still enjoyable rather than some other PNR trying hard to fit in the genre. <br/><br/>But hey, its Reseph's story. Everything is forgivable.
Review by Lauren2013
16/06/2015
Rogue Rider
4 Stars

Slow to start but picks up at the halfway point.

With the End of Days plot resolved in the previous book, the story focuses more on Jillian and Reseph's romance, which reads like a contemporary romance until the moment Reseph remembers his past and the supernatural elements come to the fore.

Reseph is the epitome of the tortured hero and the manner in which he deals with his memories is intense and realistic. It is a testament to Ione's skill as a writer that she manages to redeem a character as evil as Pestilence and enables the reader to sympathize with Reseph to such an extent.

Jillian has had a tough time of it with her unfortunate taste in men and with the demon attack that drove her into seclusion. The fact that she is able to open herself up enough to love and trust Reseph makes her all the more endearing. She and Reseph are sweet together and their emotional connection takes time to build unlike the couples in the previous installments who seemed to fall in lust at first site.

There are some interesting revelations throughout the book such as the identity of the Horsemen's father although I had already guessed this little tidbit. The relationship between Reaver and Harvester, which has been developing over the series, also gains momentum and I am eager to find out what happens with them.
Review by msralways
16/06/2015
Another AWESOME book! Oh. My . God! I can't believe how incredibly freaking good this series turned out to be and this book was just the icing on a already pretty perfect cake after Lethal Rider. It was great to see how everyone reacted when they found out that Reseph was not only alive, but in love with someone for the first time. Heartbreaking to see Reseph strugling to accept everything that he had done as Pestilence and to bear through his family rejection. Jillian was pretty great with him and the situation she found herself in, which made for a kickass heroine. Incredible!
Also in the Lords of Deliverance series | View all