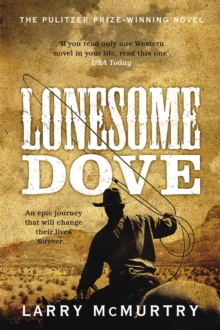 Description
It begins in the office of The Hat Creek Cattle Company of the Rio Grande.It ends as a journey into the heart of every adventurer who ever lived ...From the author of The Last Picture Show and Texasville - here is Larry McMurtry's Pulitzer Prize winning masterpiece.
A powerful, triumphant portrayal of the American West as it really was.More than a love story, more than an adventure, Lonesome Dove is an epic: a monumental novel which embraces the spirit of the last defiant wilderness of America.Legend and fact, heroes and outlaws, whores and ladies, Indians and settlers - Lonesome Dove is the central, enduring American experience dramatically recreated in a magnificent story of heroism and love; of honour, loyalty and betrayal.
Information
Format: Paperback
Pages: 848 pages
Publisher: Pan Macmillan
Publication Date: 01/07/2011
ISBN: 9781447203056
Free Home Delivery
on all orders
Pick up orders
from local bookshops
Reviews
Showing 1 - 2 of 2 reviews.
Review by GingerbreadMan
16/06/2015
McGrae and Call are retired Texas Rangers, now owning a small cattle outfit in Lonesome Dove, close to the Mexican border. Cattle is stolen back and forth across Rio Grande, but otherwise life is slow. The duo has a strange dynamic. McGrae is full of talk, laziness and mischief, loves booze and women and has a hard time taking things seriously. Call, on the other hand, is all about work and duty – a man completely void of humour and imagination. It's safe to say they get on each other's nerves, and the quiet life together isn't really suiting any of them. So when their old partner Jake Spoon suddenly returns, due to a misunderstanding with the law in Arkansas, and tells of the magnificent pastures in untouched Montana, it's more boredom than the wish to get rich that causes Call to start planning for driving a herd of cattle up there. Before anyone really understands how, the drive is a reality, and it's a journey that will change a lot of lives forever. Not least that of Lorena, the only prostitute in Lonesome Dove, a life-weary young girl who is swept away by Jake Spoon's light promises to take her to the coast. But who instead finds both horror, loyalty and perhaps even love.The blurb on the back of this book calls it an account of "the west as it truly was". I have my doubts. There are a few too many tropes here – beautiful whores, a freaky piano player, a Mexican cook, star eyed youngsters, stoic Indians, über evil outlaws and manly banter between clenched teeth. But as a tall tale which still feels genuine, grounded and authentic, it doesn't get better than this. McMurtry juggles a large cast of wonderfully flawed characters, shifting perspectives effortlessly. You come to know and care for them all, even when they are bastards – and there are truly some bastards in here. It came close to annoy me at times that virtually all females in this book are relying on men, depending on looks and sexuality to get by. But McMurtry goes beyond the hooker and victim clichés and finds people, and the female characters – Lorena, Clara, Janey, Elmira – are among the most memorable of the bunch.Forget about any aversion you might feel about the western as a genre. Oh sure, this long drive all across the young nation is an adventure, of course. There's tons of bad weather, gunfights, indian conflict (, grizzly bears and rattle snakes. But the real suspense and excitement here are in the small dramas of real people: love, secrets, betrayal, guilt, prejudice, longing and heart-break. Expect nailbiting tension, tears and sleepless nights. Don't miss this epic for anything.
Review by CarltonC
27/08/2015
A great sprawling epic western novel. Starting in a slow manner at the sparse home ranch of Lonesome Dove close to the Mexican border and the Rio Grande to build up the wonderfully realised cast of characters, this story of a cattle drive from Texas up to Montana, with all the events and misfortunes, is a great read.