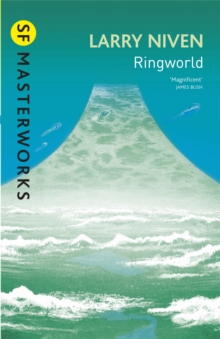 Description
Pierson's puppeteers, strange, three-legged, two-headed aliens, have discovered an immense structure in a hitherto unexplored part of the universe.
Frightened of meeting the builders of such a structure, the puppeteers set about assembling a team consisting of two humans, a puppeteer and a kzin, an alien not unlike an eight-foot-tall, red-furred cat, to explore it.
The artefact is a vast circular ribbon of matter, some 180 million miles across, with a sun at its centre - the Ringworld.
But the expedition goes disastrously wrong when the ship crashlands and its motley crew faces a trek across thousands of miles of the Ringworld's surface.
Information
Format: Paperback
Pages: 288 pages
Publisher: Orion Publishing Co
Publication Date: 01/06/2005
Category: Science fiction
ISBN: 9780575077027
Other Formats
Paperback from £7.89
eAudiobook MP3 from £16.76
Free Home Delivery
on all orders
Pick up orders
from local bookshops
Reviews
Showing 1 - 5 of 17 reviews.
Previous | Next
Review by bcquinnsmom
16/06/2015
This is the first book by Larry Niven that I've read; I have to say that I'm petrified to try the sequels because in my somewhat humble opinion, the sequels never seem to be as good as the original. Look at Rendezvous With Rama by Arthur C. Clarke, for example, and enough said. However, I was hooked by this book and didn't stop until I finished it. I won't rehash the storyline or plot or repeat what others have said here, but to me one of the aspects of the novel that I thought might have been given more potential depth (maybe it's explained in one of the sequels, and if so, I apologize) was that of what happens within a culture once its technology fails -- what's left? This is a chilling thought considering how utterly dependent modern society has become on the latest and greatest technology all over our planet. I would definitely recommend this novel with the caveat that one shouldn't depend on the characters to carry the novel. The Ringworld itself is the focal point, and the entire time I was reading the book, I could hear eerie space music in the background awaiting another discovery.
Review by rufty
16/06/2015
Ringworld; hard to be a geek these days and not be expected to know about the concept.The plot of the book is minimal and in many respects immaterial and unimportant. What Niven seems to be interested in is describing the artefact and trying to explain its mind-numbing vastness.In this it does it's job - not a stunning bit of sci-fi by any means, but something every sci-fi enthusiast probably should read.
Review by MicheD
16/06/2015
Was nice and easy read, was kind of slow for a lot of it, though I loved the descriptions of the world but was kind of confused by some of them.
Review by PhoebeReading
16/06/2015
Clarke told us that any sufficiently advanced technology is indistinguishable from magic; from that, I'd like to postulate that, perhaps, any sufficiently hard science fiction is indistinguishable from fantasy. The internet seems to want me to believe that Larry Niven is a terrifically hard (like, rock, like platinum) sci-fi writer, that his books are firmly ground in the theoretical physics of his time.But, at the risk of sounding like one of his bubble-headed heroines, I just didn't <I>get</I> most of the science in <I>Ringworld</I>. We're meat to marvel at the setting created by the Ringworld Engineers, which our ragtag team of aliens and humans set out to explore. But, while I think it's a rich setting in its own right, the science behind it didn't particularly thrill me. In most ways, <I>Ringworld</I> felt, to me, more like a fantasy adventure novel. What seemed to me to be (at least indistinguishable from) pseudo scientific motivations for exploration really just felt like excuses to set his characters down in an interesting place and watch them interact.And its in these interactions between characters that Niven's strengths really shine through. His aliens, particularly, are exceedingly well-drawn. I think it's just about impossible to read about Worf-like Kzin Speaker and Pierson's puppeteer Nessus and not feel some modicum of affection for them. The human characters are likewise endearing, if a little less well-fleshed out. Luck-afflicted human Teela Brown is intentionally empty, but this makes her attraction to Louis Wu less-than-convincing. Wu himself is an unremarkable everyman. Why all the women want him, I have no idea.I was less interested in the plot, even, than I was in the supposedly hard science. But Niven's characters were so great that I didn't really care. This felt like a more-serious <I>Hitchhiker's Guide</I>, or maybe <I>Farscape</I> at its best--adventurous characters with nuanced relationships thrust out against a mysterious setting. Even if I didn't <I>get</I> what was so important about Fist-of-God or really understand how they turned a floating building into a spaceship, I enjoyed my time spent on the Ringworld.
Review by salimbol
16/06/2015
Cool concept, middling execution. While Niven definitely conveys the vastness and sheer *epicness* of the Ringworld itself, and he writes believable alien characters, much of the book feels thin and dated. The two main aliens are considerably more interesting than the two main human characters, and I found myself increasingly irked at the infantalising of the main female character. I also found my eyes glazing over at the heavily pedantic hard science sections; a more skilled writer could probably have written them in a more seamless fashion, and made them feel less like a science lesson. Still, you can see echoes of this book in many of the SF books that followed, and its place in SF canon must be acknowledged.
Also in the S.F. Masterworks series | View all