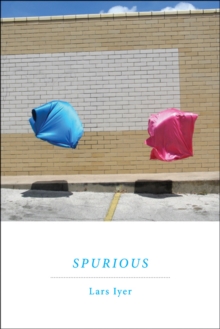 Information
Format: Paperback
Pages: 176 pages
Publisher: Melville House Publishing
Publication Date: 25/01/2011
ISBN: 9781935554288
Free Home Delivery
on all orders
Pick up orders
from local bookshops
Reviews
Showing 1 - 5 of 6 reviews.
Previous | Next
Review by jasonpettus
16/06/2015
(Reprinted from the Chicago Center for Literature and Photography [cclapcenter.com]. I am the original author of this essay, as well as the owner of CCLaP; it is not being reprinted illegally.)By all laws of the current literary market, the comedic novels <I>Spurious</I> and <I>Dogma</I> by philosopher Lars Iyer (comprising two-thirds of an as-yet unfinished trilogy) shouldn't really exist at all, and it's a testament to the suddenly hot Melville House that they've not only published them, but have been promoting the newest with all the pomp and resources usually afforded only to Stephen King potboilers; for these are not traditional novels nearly as much as they are the spiritual grandchildren of Samuel Beckett, absurdist and cyclical tales where the point is not really to see "what happens" but rather to wallow in the abstract pleasures of language itself. Comprised as a series of conversations between a philosopher who just happens to be named Lars and his doppelganger and frenemy known only as W., and with the story details grounded in just exactly enough reality to seem plausible (they live on opposite sides of Britain; W. has recently become a Malcolm-Gladwell-type popular public prognosticator; Lars is experiencing a mysterious mold problem in his house that threatens to take over the entire building), readers will nonetheless get quickly frustrated if expecting such silly things from these books as a plot or character development; instead, this is more like getting a glimpse of what it must be like inside the head of a college professor while they're in the middle of having a nervous breakdown, a series of funny yet sometimes impossible-to-follow rants and arguments between the two that reference as many obscure thinkers and experimental artists as <I>Family Guy</I> does '80s television shows (and many times just as randomly). I agree with a lot of other critics I've come across, that I immensely enjoyed these silly yet high-falutin' comedies, but can't imagine another human being who will as well; and for that many unrelated strangers to say the same thing is a powerful statement indeed, and makes one understand why the publisher has put such a big promotional push behind what's essentially the very definition of idiosyncratic writing. As you can tell, it takes a special type of personality to enjoy these books; but if you're already a fan of such things as <I>Waiting for Godot</I> and <i>A Confederacy of Dunces</i>, you owe it to yourself to at least take a stab at these frustrating but ultimately satisfying head-scratchers.Out of 10: <B>8.8</B>
Review by albertgoldfain
16/06/2015
A fugue on a few good ideas, including Kafka and Brod, Calculus, the Talmud, and a perpetual (almost comic) rant about failure. The narrator and the character W are linked on literally every page, which makes me wonder if they were intended to be halves of the same (perhaps schizophrenic) person.
Review by yrcorresps
16/06/2015
Lars Iyer is on to something here. He might be our next great leader - although we should avoid telling him that.He exemplifies what a literary novelist in the 21st Century should be. He's quirky and quick-witted, but also rigorous and well-read. With SPURIOUS he's created a novel that recalls Beckett and (obviously) Kafka, but feels perfectly suited to readers of this day and age. SPURIOUS is a plotless conversation between two friends, professors, W. and Lars. They ruminate on failure, the apocalypse, Messianism, Kafka, Bela Tarr, maths, mold, and gin. Lots of gin. The book is essentially funny, but it's a type of humor that has sadness as its foundation.It follows the two professors from place to place, but doesn't really "go" anywhere. Those readers who have come in search of plot need beware. But for those of us who are happy to venture into the mind, this one's for you.
Review by stillatim
16/06/2015
I read this for fun while I was teaching Notes from Underground, and, unfortunately for Mr Iyer, the comparison doesn't do him much good. The best case scenario for Spurious (and the title hints that this might be right) is: this book tries to do for late twentieth century ideas what Dostoevsky's Notes did for mid nineteenth century ideas, i.e., show the hollow stupidity. It certainly does that. If you're my age or a little older or a little younger, you probably had to/desperately wanted to read many of the names dropped here, explicitly or implicitly: W. Benjamin; Deleuze; Blanchot; Levinas; Heidegger; Rosenzweig; Scholem. You probably got a little bit out of some of them. You probably got more out of Kafka, who figures even more heavily here. So in Spurious, you get 'Lars's' memory of his conversations with another guy. They're both academics, presumably in a cultural studies or critical theory department. The more forceful one, W., seems to be convinced that they're idiots and will never know what it means to 'think.' So, like the Underground man before them, they vacillate and end up doing very little, before living through a very resonant, very brief plot (for the Underground man, the attempt to save a prostitute; for W. and Lars, a Kafka-esque struggle against rising damp). Another obvious touchstone here: Beckett's stripping away of 'literature' from his plays.<br/><br/>So far so curious. But for the book to really get anywhere, either the implied author, or the narrator, or the character W. needs to realize that the ideas they're swimming around in are garbage in very obvious and fundamental ways: there is no 'thought' of a detached, genius kind, not anywhere. There is no 'experience of thought,' unless you're on drugs, and there's a reason your thoughts on drugs are garbage. There's a reason, too, that the 'thinkers' in the above tradition drift towards history of religion, particularly non-conformist themes like mysticism and messianism; you get the frisson of believing in something without really actually believing in anything. <br/><br/>I'm not convinced, though, that the book is really a critique of those ideas (and the lifestyle which goes along with them) on any level. In too many ways, it looks like an attempt to fulfill them. But when you fulfill garbage ideas, you get garbage. <br/><br/>So, Iyer writes very, very well, but ultimately this reminds me of Philip Roth. Amazing facility with language paucity of intelligent reflection = readable, funny, touching, intellectually bankrupt books. I hope the sequel, 'Dogma,' gives me reason to think that Iyer's doing much more than that.
Review by proustitute
16/06/2015
If you:<blockquote>...read too much Heidegger, Spinoza, and Kierkegaard in your formative years which then caused all experiences from puberty onward to become internal debates, <i>crises of consciousness</i>, self-reflexive moments that forced you to pull a Hamlet and dwell in your head rather than enjoy life without over-thinking it like those who read, say, Judy Blume in lieu of Kafka.<br/><br/>...have ever gotten drunk and thought that you were the Messiah.<br/><br/>...have ever gotten drunk and thought that your interlocutor was the Messiah.<br/><br/>...think that Béla Tarr <i>is</i> the Messiah.<br/><br/>...prefer your action rendered as "action" and thereafter rendered in Socratic dialogue, punctuated by ejaculations of "moor!" and "river!"<br/><br/>...think that we are in the end of days.<br/><br/>...are a fan of Derrida &amp; co. and need a laughingly perverse bout of crying or a cryingly perverse bout of laughing.<br/><br/>...have a problem with damp in your flat and make not mountains out of molehills but allegories out of mold spores.<br/><br/>...admire your best friend more than yourself (as does he).</blockquote>... well, then, you must hastily get your hands on a copy of this and begun reading your way through Iyer's trilogy <i>tout de suite</i>.