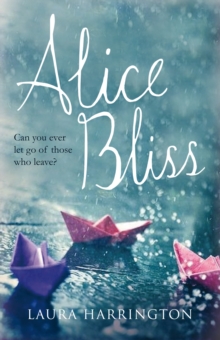 Description
Alice Bliss is fifteen. She's smart, funny, and clever. Not afraid to stand up for the things she believes in.
She also idolises her father and, when he leaves home to fight a war she doesn't believe in, Alice is distraught.
She and her mother negotiate his absence as best they can - waiting impatiently for his letters, throwing themselves into school and work respectively, bickering intermittently and, in Alice's case, falling for the boy next door - but then they're told that he's missing in action and have to face up to the fact that he may never return.
Telling a story of love and loss, of grief and growing up, of family and friendship, "Alice Bliss" is a powerful, poignant portrayal of a young girl facing up to the unthinkable. "Compassionate and intelligent, "Alice Bliss" combines strong storytelling and a rich emotional core". (Jenny Downham, author of "Before I Die".) "A powerful and richly delineated novel". (Sarah Blake, bestselling author of "The Postmistress"). "Heartbreaking yet edged with promise, "Alice Bliss" explores the wounds of war, love, and family bonds while illuminating the strength of a young girl's spirit.
A stunning debut". (Beth Hoffman, "New York Times" bestselling author of "Saving CeeCee Honeycutt").
Information
Format: Paperback
Pages: 320 pages
Publisher: Pan Macmillan
Publication Date: 15/07/2011
ISBN: 9780330544177
Other Formats
Paperback from £6.29
EPUB from £6.39
Free Home Delivery
on all orders
Pick up orders
from local bookshops
Reviews
Showing 1 - 4 of 4 reviews.
Review by arkgirl1
16/06/2015
A daughter, very close to her Dad, struggles to cope when he heads off to Iraq. This was the synopsis I read and it was an idea that intrigued and I wanted to see how well it conveyed the uncertainty and ache of missing a family member away in a conflict; it does this very well and I think Alice's voice is beautifully written capturing the self-centredness of a teenage girl but still providing a character that you empathise with.Alongside the story of Alice, and her family, waiting for news from Iraq we also have her awakening as a young women with a love triangle that will appeal to the YA female market. It is a very believable story and the only slightly jarring note are the points when the narrative voice jumps to Alice's mum as your sympathy has been built up with Alice and thus hearing her mum's point of view makes you feel a little uncomfortable.I would certainly encourage my daughter to read this and feel it has much to offer to older readers too.
Review by seekingflight
16/06/2015
This was a very moving book about Alice Bliss, a teenager whose dad, Matt, is sent to Iraq with the Army Reserve. In some ways, it's the story of the very ordinary tensions between a mother and her daughter, as her daughter grows and changes. However, all these tensions are compounded when they're told that Matt is missing in action, and the book is also about how they deal with this. Alice is a strong character, I enjoyed the way in which the story is told from her point of view, I very much liked her narrative voice, and there are a number of telling moments in the book that I very much appreciated. It's sad but probably realistic to see that the tension between Alice and her mother, Angie, continues even after Matt is reported missing. For all the advice parenting manuals and counseling books give on how to deal with a situation like this, it's entirely understandable that it's difficult for parents to be there – as ideal parents – for their children when they're upset and worried themselves, and likewise, Alice's own reactions to the situation sometimes make things more difficult for her mother. Alice and Angie are both well-intentioned and sympathetic but flawed characters, and that's another thing that I liked about this book, and that made it even more moving for me.
Review by Carolinejyoung
16/06/2015
I did enjoy this but it wasn't a 'page turner'. I found the latter third of the book the most compelling and emotional.
Review by wiremonkey
16/06/2015
There are some books that pry long-forgotten memories out of the dusty corners of your brain, unfold them on a table and force you to look at them. Alice Bliss was like this for me.Alice Bliss is a 14-year old girl who loves her father very much. So when his reserve unit is called up to go to Iraq, her world turns upside down. Although she goes through the motions of her everyday- joins the track team, explores love, deals with the glimpses she gets of the adult relationship between her mother and father, the worry and anxiety she feels for her absent father colours everything she does.Where do I begin reviewing this? I could talk about Harrington's interesting decisions when it comes to viewpoint- the book is in third person close, but not always from Alice's perspective. She flits from character to character, like a butterfly who can read minds. At first this jarred me, but ultimately I think it works. We get Alice's perspective as well as that of her mother, her grandmother, her best friend Henry. It is like getting a sweeping cinematic landscape shot but inside the brains of the characters.Or the mounting tension, of seeing each member of the family slowly crumble under the weight of their own grief.Or maybe how it is a simple book, with a simple plot and yet encompasses all the meat of our everyday- of growing up, of the complexity and simplicity of love. Of how we keep on keeping on even when we don't think we can…How each of the characters are flawed, beautiful, believable, from the mother who struggles to keep the family together with varying success, to the little sister who finds refuge in the dictionary and long words.On a personal note, I read this book in one day, sitting on the couch, crying my eyes out. Though it is true, books have been known to bring me to tears from time to time, none as much as this one. The memories it brought back were of heading back to my class after a dictée and seeing the Base Commander with his arms around my sobbing mother. Of being ushered in the class by my teacher and then minutes later being told to come with her. Of my mother taking me by the shoulders and telling me my father was dead. Of the funeral with all my father's friends in their uniforms, nightmarish copies of my own father. Of my mother crying in her room in the dark, inconsolable.Christ. It was a good book. You should read it. It probably won't slice you in half like it did me.
Also by Laura Harrington